Australia has a well-earned reputation as arguably the most successful multiethnic society in the world today. There are many reasons why we can be confident that this will continue into the future, but we cannot take it for granted.
Our migration program remains a significant contributor to our national success, helping create a strong economy and sustaining our strong, cohesive society and a way of life we can all enjoy. Protecting the integrity of our immigration programme is essential to our continued success.
For decades we have also worked hard to establish a national consensus about the merits of cultural and ethnic diversity. Having achieved this goal, it is now time to focus more on what we have in common as Australians and how we can work to better integrate our society through shared national values and aspirations.
Scott Morrison explored the reasons he is optimistic about our immigration future and how this will continue to build a society where Australians of all backgrounds can share in the hope, reward and opportunity that comes with living in the greatest country on earth.
His paper can be accessed here.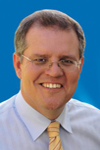 Scott Morrison MP
Scott Morrison was first elected to the Commonwealth Parliament as the Federal Member for Cook on November 23, 2007 and is currently the Shadow Minister for Productivity and Population and Shadow Minister for Immigration and Citizenship.
Scott was first appointed to the Coalition frontbench in September 2008, as Shadow Minister for Housing and Local Government, and later took on the additional portfolio of Shadow Minister for Infrastructure.
During his first term in Parliament Scott was also promoted to Shadow Cabinet in December 2009, to the role of Shadow Minster for Immigration and Citizenship, where he played a key in the 2010 federal election campaign, successfully prosecuting the Coalition's case on border protection and immigration issues.