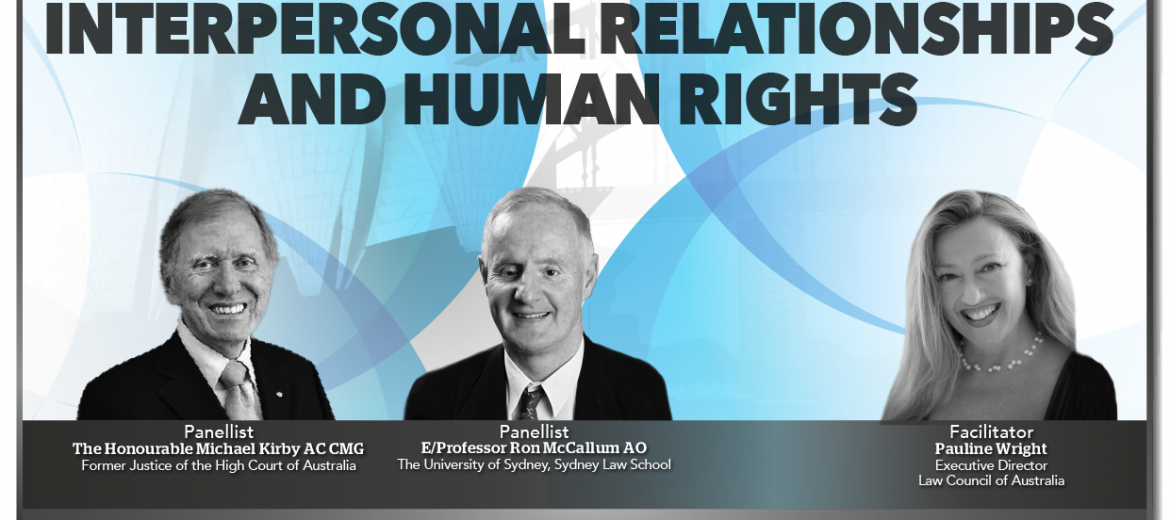 About The Event
Join us on Thursday, 16 August for a special Lunchtime Panel with Hon Michael Kirby AC CMG, Former Justice of the High Court of Australia) and Ron McCallum, Emeritus Professor from University of Sydney.
They will be discussing 'Interpersonal Relationship and Human Rights', which will cover issues that are faced by people within the LGBTQI+ community as well as those with a disability.
This event is likely to reach capacity! Don't miss out – register for your free ticket today.
Light lunch will be served at 12:00pm. The talk will start at 12:30pm.
About the Panellists:
The Hon. Michael Kirby AC CMG
When he retired from the High Court of Australia on 2 February 2009, Michael Kirby was Australia's longest-serving judge.
He was first appointed in 1975 as a Deputy President of the Australian Conciliation & Arbitration Commission. Soon after, he became inaugural Chairman of the Australian Law Reform Commission (1975-84). Later, he was appointed a Judge of the Federal Court of Australia, then President of the New South Wales Court of Appeal (1984-96) and, concurrently, President of the Court of Appeal of Solomon Islands (1995-6). His appointment to the High Court of Australia followed in 1996 and he served thirteen years. In later years, he was Acting Chief Justice of Australia twice.
In addition to his judicial duties, Michael Kirby has served on three university governing bodies being elected Chancellor of Macquarie University in Sydney (1984-93). He also served on many national and international bodies. Amongst the latter have been serving as a member of the World Health Organisation's Global Commission on AIDS (1988-92); as President of the International Commission of Jurists, Geneva (1995-8); as UN Special Representative for Human Rights in Cambodia (1993-6); as a member of the UNESCO International Bioethics Committee (1995-2005); as a member of the High Commissioner for Human Rights' Judicial Reference Group (2007- 9) and as a member of the UNAIDS Reference Group on HIV and Human Rights(2004-).
Following his judicial retirement, Michael Kirby was elected President of the Institute of Arbitrators & Mediators Australia from 2009-2010. He served as a Board Member of the Australian Centre for International Commercial Arbitration (2009-14). He has been appointed Honorary Visiting Professor by twelve universities. And he participates regularly in many local and international conferences and meetings. He has been awarded a number of honorary doctorates at home and abroad. He also serves as Editor-in-Chief of The Laws of Australia (2009 – ).
He served 2011-12 as a member of the Eminent Persons Group on the future of the Commonwealth of Nations. He was a Commissioner of the UNDP Global Commission on HIV and the Law 2011-2012. He was appointed to the Advisory Council of Transparency International, based in Berlin in 2012. In 2013- 2014, he was appointed Chair of the UN Commission of Inquiry on Human Rights Violations in North Korea. He a Commissioner of the UNAIDS Lancet Commission on AIDS to the Right to Health (2013-2014); the Global Fund's Equitable Access Panel (2015-16); the UN Secretary-General's High Level Panel on Access to Essential Medicines (2015-16); and UNAIDS/OHCHR's panel on overreach of criminal law (2017); and Co-Chair of the International Bar Association's Human Rights Institute (2018 – ).
He was awarded the Gruber Justice Prize in 2010 and has been Patron of the Kirby Institute on Blood Borne Diseases in UNSW Sydney, Australia since 2011. In May 2017, he was invested by Japan with the insignia of the Order of the Rising Sun, Gold and Silver Star in Tokyo, with an audience with the Emperor of Japan.
Emeritus Professor Ron McCallum AO
Emeritus Professor Ron McCallum AO studied law at Monash University, graduating in 1972. After teaching at Monash for eighteen years, he moved to Sydney in 1993 where he was appointed to a full professorship at the University of Sydney. Blind since his birth, this appointment made Ron the first totally blind person to be appointed to a full professorship at any Australian or New Zealand university. He served as Dean of the University of Sydney Law School between 2002 and 2007. In January 2011, on his retirement, the Senate of the University of Sydney awarded Ron the title of Emeritus Professor. His expertise in labour law and occupational health and safety saw him appointed as chair or member of various federal and state inquiries.
Professor McCallum was made an Officer in the Order of Australia (AO) in 2006 for his services to tertiary education, for industrial relations advice to governments, for assistance to visually impaired persons and for social justice. In January 2011, Prime Minister Ms Julia Gillard designated Ron as Senior Australian of the Year for 2011. Professor McCallum was nominated by the Australian government to stand as an independent expert for the United Nations Committee on the Rights of Persons with Disabilities when that Committee was first established in 2008. The primary function of the Committee is to monitor the implementation of the United Nations Convention on the Rights of Persons with Disabilities. Ron served as the inaugural member, then Chair of this Committee and then as a Vice-Chair until the conclusion of his mandate on 31 December 2014. He also served as the Chair of the UN Committee of the Chairs of all of the UN Treaty Bodies in 2011-2012.
About the Facilitator:
Pauline Wright
Pauline is an accredited specialist in Local Government and Planning Law, with a background in criminal law which was her major field of practice for her first 15 years as a solicitor. She graduated with a BA LLB from Macquarie University in 1985 with a double major in Law and Mass Communications, and was admitted as a Solicitor of the Supreme Court of New South Wales the same year. Pauline also holds a Graduate Diploma from the Australian Institute of Company Directors.
Pauline has served on the Council of the Law Society of NSW for 19 years and is presently the Junior Vice President. She sits as chair of the Audit Committee and the Environmental Planning and Development and Criminal Law Committees and is a member of the Indigenous Legal Issues and Professional Standards Disclosure Committees. She is a regular spokesperson in the media for the Law Society on a range of current legal issues.
Being interested in the probity and effectiveness of the planning system in NSW, Pauline is also President of the Urban Development Institute of Australia (NSW) Central Coast Chapter. She is a past Vice President of NSW Women Lawyers and is a member of TCOL Limited (the College of Law) and has served as a Governor of the Law and Justice Foundation and Commissioner of the Legal Aid Commission of NSW, where she continues to sit on the Legal Aid Review, Serious Criminal Law Selection Panel and Specialist Barristers Selection Panel committees. She is also a past director of the Public Interest Advocacy Centre and is a director of the Public Interest Law Clearing House.
Pauline has been Senior Vice President of the NSW Council for Civil Liberties since about 1998 and has over the years been active as a spokesperson lobbying for civil and human rights, particularly in the areas of criminal justice, anti-terrorism and asylum-seeker policy.
Pauline is also a keen ocean swimmer, surf lifesaver, singer, actor, theatre producer, director and writer.
Our Speakers
Emeritus Professor Ron McCallum