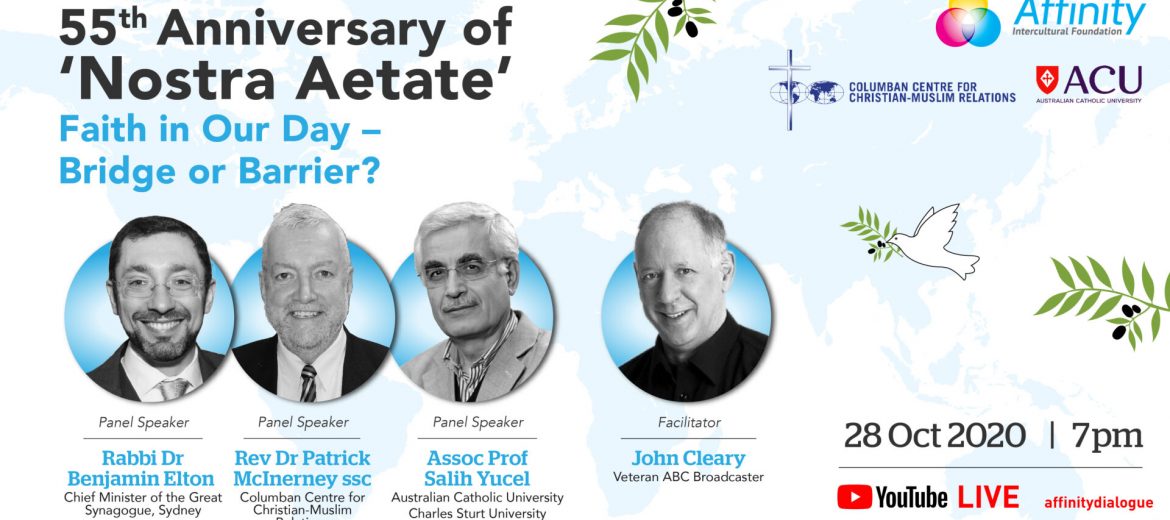 About The Event
Affinity has proudly collaborated with the Columban Centre for Christian-Muslim Relations and the Australian Catholic University (ACU).
Join us for an insightful webinar with Rabbi Dr Benjamin Elton, Reverend Dr Patrick McInerney ssc and Associate Professor Salih Yucel. Facilitating this webinar is Veteran ABC Broadcaster John Cleary.
This webinar episode will go LIVE on 28 October 7 pm on Affinity's YouTube channel. Please click on the link: https://youtu.be/nsxedc_29k8
Make sure to register to keep updated by clicking here.
About This Webinar:
October 28 marks 55 years since the Vatican Declaration on inter-faith relations 'Nostra Aetate – In Our Day'. The declaration emerged out of reflection on role of religious intolerance in the horrors of WW2 and the Holocaust. It sought to harness the power of faith as a bridge to global understanding. Today – In Our Day, faith continues to have a powerful role in shaping the world view of millions. Nostra Aetate is a turning point in the Catholic-Jewish-Muslim relationship. It encourages mutual understanding between Catholics and other faiths. The question remains for every faith community, as to what extent that power is deployed as bridge or barrier.
Key Speakers:
Panellist: Rabbi Dr Benjamin Elton
Rabbi Dr Benjamin Elton was appointed Chief Minister of The Great Synagogue in June 2015. Born in Manchester, England, Rabbi Elton earned an MA in History at Queens' College, Cambridge and a PhD in Jewish History at Birkbeck, University of London. For seven years he worked in the Ministry of Justice in London and then studied for four years at Yeshivat Chovevei Torah (YCT) in New York. There, he was editor of its journal, a member of its Advanced Kollel and winner of the prize for excellence in Talmudic study.
As part of his pastoral training Rabbi Elton undertook residencies as a hospital chaplain and leading a grief support group. He received Semicha from YCT in June 2015, and in addition has Semicha from Rabbi Chaim Rapoport of London. In addition to his 2014 book, Britain's Chief Rabbis and the Religious Character of Anglo-Jewry, 1880–1970, he has authored several articles on Anglo-Jewish and Australian Jewish religious history and is a Fellow of the Royal Historical Society of London. He is also an Honorary Associate at the University of Sydney, Jewish Chaplain to the Returned Services League (NSW Branch) and Orthodox Rabbinic Consultant to the both the New South Wales Jewish Board of Deputies and the Executive Council of Australian Jewry.
He sits on the Committees of Mandelbaum House, the Australian Jewish Historical Society and the New South Wales Council of Christians and Jews, of which he is a former President. Rabbi Elton is married to Hinda Young are they are proud parents of a daughter, Elizabeth (Lizzie).
Rabbi Elton and Hinda are excited to be leading The Great Synagogue. They are dedicated to sustaining a warm and vibrant community, with a love for Judaism and for each other.
Panellist: Reverend Dr Patrick McInerney ssc
Fr Patrick McInerney is a Columban missionary priest from South Australia and was ordained in 1978. He was assigned to the Islamic Republic of Pakistan for more than twenty years, where he was involved in a variety of ministries – parish, teaching, administration, leadership, and Christian-Muslim Relations.
He completed a licence at the Pontifical Institute for the Study of Arabic and Islamics in Rome in 1986, a Masters in Theology at the Melbourne College of Divinity in 2003, and a Doctorate in Theology at the Australian Catholic University in 2009.
Fr Patrick is the Director of the Columban Mission Institute in Strathfield, the Coordinator of its Centre for Christian-Muslim Relations and a staff member of its Centre for Mission Studies. For further details see www.columban.org.au and follow the links to the respective Centres. He lectures in Islam and Interreligious Dialogue at the Catholic Institute of Sydney. He is also a staff member of the Broken Bay Institute's faculty for Mission and Culture and lectures in Islam and Interreligious Dialogue with the University of Newcastle.
He is a member of the Australian Catholic Council for Ecumenism and Interreligious Relations (ACCEIR) (which advises the Bishop's Commission on Ecumenism and Interreligious Relations), a board member of the Australian Catholic University's Centre for Inter-religious Dialogue (CID), and on the Executive of the NSW branch of Religions for Peace (RfP). In 2011 Fr Patrick was awarded the title of Honorary Fellow of the Australian Catholic University (ACU).
Fr Patrick attends interfaith and multi-faith conferences, and gives talks and lectures on Islam, Christian-Muslim Relations, Interreligious Relations and mission related topics to a wide variety of audiences.
Panellist: Associate Professor Salih Yucel
Associate Professor Salih Yucel completed his Bachelor of Islamic Theology – a five-year program and equivalent to undergraduate and Masters Degree – at the University of Ankara in 1982. He undertook various ecclesiastical roles for ten years for the Ministry of Religious Affairs in Turkey. Subsequent to attaining his Australian permanent-resident status, he completed Master of Theology at the University of Sydney in 1996. He continued his postgraduate studies in United States and completed his doctorate at Boston University in 2007. His doctoral research was on "The Effect of Prayer on Muslim Patients Well-being"
Salih also worked as a Muslim Chaplain at Harvard Medical School's hospitals for seven years. After ten years in the United States, he returned to Australia in 2007. A/Prof. Yucel worked as lecturer and senior lecturer at Centre for Religious Studies at Monash University between 2008-2014. Currently he teaches at the Centre for Islamic Studies and Civilisation at Charles Sturt University in Sydney. He is also Provisional CPE Supervisor.
He is author of four books, co-author of one book and number of articles and book chapters.
Facilitator: John Cleary
John Cleary is a veteran ABC broadcaster and one of Australia's best-known commentators on religion.
In his 30-year career with the ABC he has worked extensively in both radio and television, but is known principally for his association with Sunday Nights on ABC Local Radio and The Religion Report on ABC Radio National.
John began his career in Perth, where he was one of the original Compass team on ABC TV and a co-presenter of the philosophy program, Meridian, on Radio National in the 1990s.
For several years, John also appeared in a regular slot on the ABC youth network JJJ.
His 1992 book on the Salvation Army in Australia was awarded the Christian Book of the Year.
In 2008, John was host of the interfaith event held by the Catholic Church in conjunction with World Youth Day and the visit of Pope Benedict XVI.
Our Speakers
Associate Professor Salih Yucel
Reverend Dr Patrick McInerney ssc