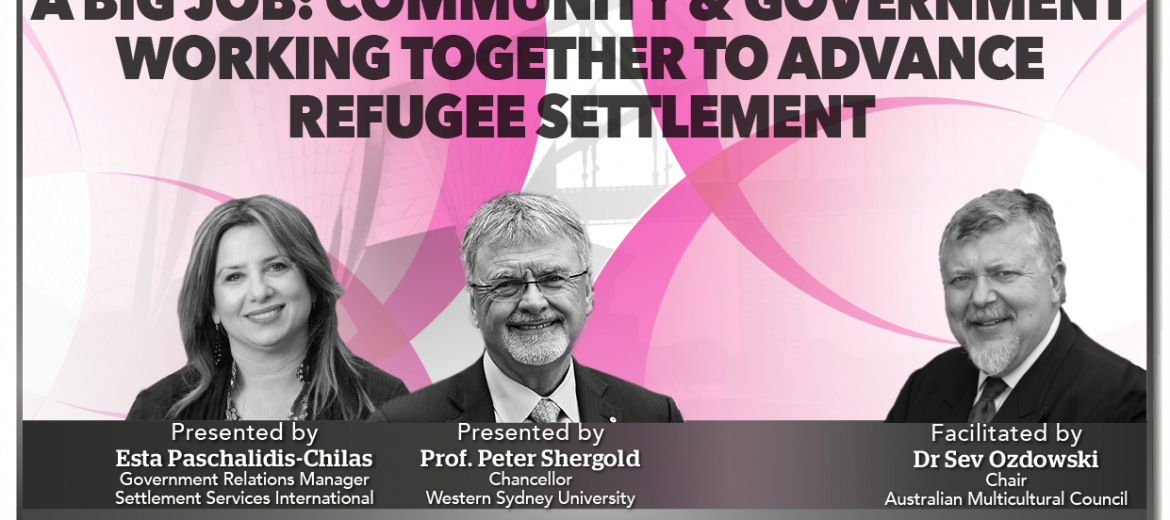 About The Event
Join Esta Paschalidis-Chilas, Government Relations Manager at Settlement Services International and Professor Peter Shergold AC, Chancellor of Western Sydney University, at this Affinity Evening Lecture, as they discuss the topical issue of advancing refugee settlement in NSW.
About the Panellists:
Professor Peter Shergold | Chancellor, Western Sydney University
The Board of Trustees elected Professor Peter Shergold AC as its chair and the University's new Chancellor in 2010. His term began on 1 January 2011 and has recently been extended until December 2020.
Peter received a B.A. Hons (First Class) in Politics and American Studies from the University of Hull; an M.A. in History at the University of Illinois at Chicago Circle; and a PhD in Economics from London School of Economics.
He was elected a Fellow of The Academy of Social Sciences (FASSA) in Australia in 2005. He has also been made a Fellow of the Australia and New Zealand School of Government (ANZSOG), the Institute of Public Administration Australia (IPAA), the Australian Institute of Company Directors (AICD), the Australian Institute of Management (AIM) and the Royal Society of NSW (FRSN). In 2017 he was elected National President of IPAA.
Peter migrated to Australia in 1982 to take up a lecturing position at the University of New South Wales. He became Head of the Department of Economic Histories in 1986. As an academic he received two Fullbright scholarships to study in the U.S.A.
In 1987, Peter became a CEO in the Australian Public Service (APS) for two decades, working with Prime Ministers and Ministers from both sides of politics. His first job was to establish the Office of Multicultural Affairs. From 1991 he headed the Aboriginal and Torres Strait Islander Commission (ATSIC) and from July 1994 he was Chief Executive Officer of Comcare. He was appointed Australian Public Service Commissioner from September 1995 to February 1998. He served as Secretary of the Department of Employment, Workplace Relations and Small Business from 1998 until 2002 and then became the Secretary of the Department of Education, Science and Training.
In February 2003, Peter was asked by the Prime Minister, John Howard, to serve as Secretary of the Department of the Prime Minister and Cabinet, becoming the nation's most senior public servant. He did so for 5 years. During that time the so-called 'Shergold Report' (actually the report of the Task Group on Emissions Trading) was presented to – and accepted by – the Commonwealth government. He managed the transition to government of the new Prime Minister, Kevin Rudd, leaving the APS in February 2008.
In addition to his Western Sydney University role Peter served as a non-executive director on the Boards of AMP Ltd and its subsidiaries, AMP Life and AMP Bank from 2008 – 2017. He also served as an external director of Corrs Chambers Westgarth from 2009 to 2016. He presently chairs Opal Aged Care. He is also a director of a capital start-up in the area of quantum security, QuintessenceLabs, and is a member of O'Connell Street Associates.
In the not-for-profit field he has been the chair of the Australian Rural Leadership Foundation, the deputy chair of the Sydney Writers' Festival and patron of the Left-Right Think Tank. He was CEO of the Centre for Social Impact from 2008 – 2011 and is now its chair. He remains a member of the State Library Council of NSW.
In the government arena he chairs the NSW Public Services Commission Advisory Board. He has been chair of the Aged Care Reform Implementation Council and the Aged Care Sector Committee. He headed the Ministerial Expert Group on Gambling for the Commonwealth Government under Prime Minister Rudd. In Western Australia he was asked to lead the Government/not-for-profit Partnership Forum under Premier Colin Barnett. In 2013 he completed a report on community service sector reform for the Victorian government. He served on the Queensland Public Sector Renewal Board on major public projects. He wrote a major report, "Learning from Failure", which was handed to the Commonwealth government in 2015. He has also chaired reviews into Medicare Card security (2017) and the implementation of the National Construction Code (2017 – 2018). He presently chairs the forum on Western Sydney Airport.
He is active in education. He chairs the National Centre for Vocational Education Research. He was chair of the TEQSA Advisory Council. He now chairs the Commonwealth's Higher Education Standards Panel.
Peter was appointed in 2014 as Coordinator General for Refugee Resettlement in NSW.
Peter was made a Member in the Order of Australia (AM) for public service on Australia Day 1996 and was presented with the Centenary Medal in 2003. In 2007, he received Australia's highest award, the Companion in the Order of Australia (AC) for service to the community.
Esta Paschalidis-Chilas | Government Relations Manager at Settlement Services International
Esta Paschalidis-Chilas is the Government & Member Relations Manager at Settlement Services International. She is s a Social Worker with over 25 years experience working in social services, the private sector and in government.
She has a particular passion for and commitment to multicultural and settlement services having been the Executive Officer of a Migrant Resource Centre in South Western Sydney for 12 years. Esta is the former Chair of the Refugee Council of Australia and has served on a range of Boards and Committees over the years. More recently she was a serving Councillor on Canterbury City Council.
About the Facilitator:
Dr Sev Ozdowski | Chair of Australian Multicultural Council
Sev Ozdowski is an Australian human rights advocate and social researcher, former senior civil servant and Human Rights Commissioner and Disability Discrimination Commissioner for the Australian government from 2000 to 2005. Sev is known for his defence of human rights of refugees, especially child asylum seekers detained in Australia and people with disabilities and mental illness as well as for his contribution to multicultural policies in Australia. Since 2006, he has been the Director of Equity & Diversity at Western Sydney University and Adjunct Professor at the Centre of Peace & Conflict Studies at the University of Sydney.