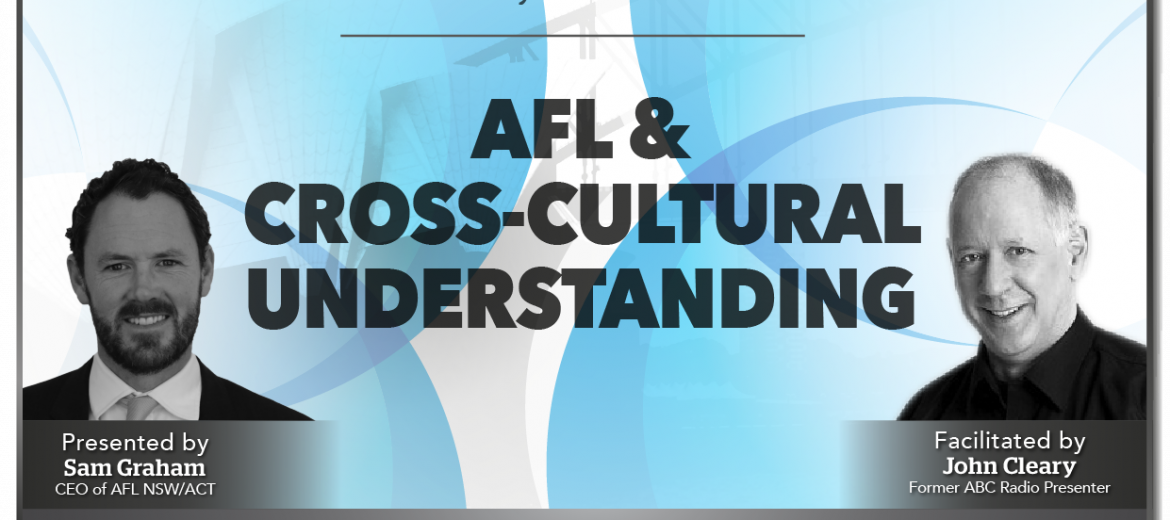 About The Event
Join us for an evening Lunchtime Lecture with Sam Graham, CEO of AFL NSW/ACT. The topic of Sam's talk will be 'AFL & Cross-Cultural Understanding'. Light lunch will be served at 12:00 pm. The talk will start at 12:30 pm.
About the Speaker:
Sam Graham | CEO, AFL NSW/ACT
Sam Graham completed a Bachelor of Commerce from Deakin University. He started as a graduate at KPMG in 1997, in the corporate recovery division, and studied at the Institute of Chartered Accountants of Australia in 1999 to become a chartered accountant. In 2001, he started a role in strategic finance at Centrica plc, based in London. After a contract at Foster's Group in Melbourne in 2005, he joined the AFL in September 2005 as a Strategic Planner. In January 2009, he was appointed Manager – Strategy, and in September 2011 was appointed Manager – Club Services. He was appointed to the AFL Executive in May 2013 as General Manager, Strategy and Club Services.
About the Facilitator:
John Cleary | Former ABC Radio Presenter
John Cleary is the former presenter of Sunday Nights on ABC Local Radio.
John Cleary has been described as 'one of Australia's leading commentators on religious affairs'. He is a member of the ABC's specialist Religion unit and is often heard as a commentator on Religious issues for ABC Radio and Television.
He is best known for his years with Radio National as presenter of The Religion Report and, prior to that, the philosophy program Meridian. He was part of the original Compass team on ABC TV, and was for several years a weekly part of the Triple J morning program with Angela Catterns and Jen Oldershaw.
In 1994 his book on the Salvation Army in Australia, Salvo, was awarded Australian Religious Book of the Year.
During his career with the ABC John has worked for extended periods in Perth, Melbourne, and Sydney. John's appointment to Sunday Night on local Radio in 2001, marks a welcome return to a spot John occupied on Local and Metropolitan Radio in the early 90's.