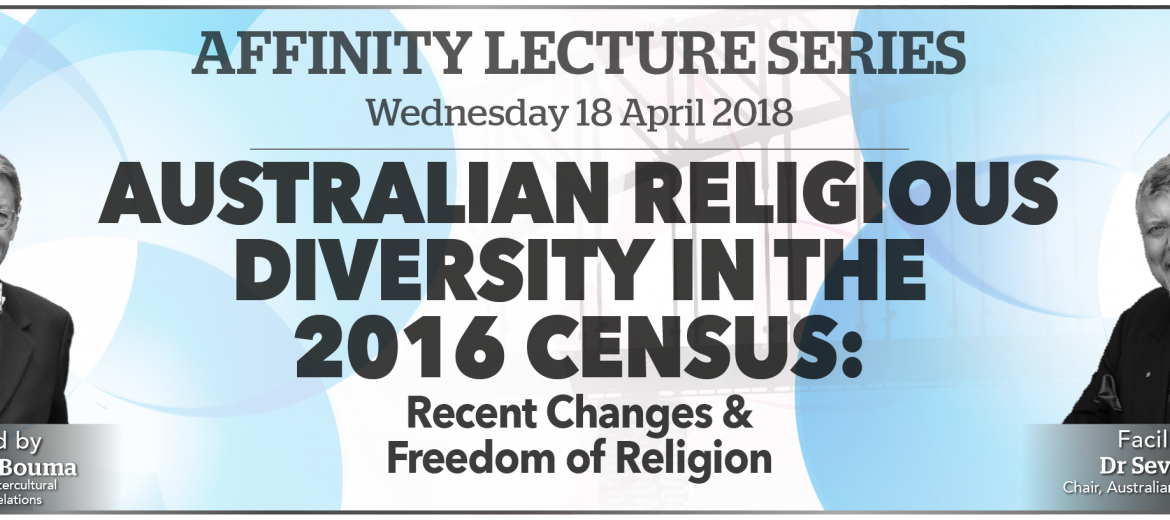 About The Event
At Affinity Intercultural Foundation, our mission is to create and sustain enduring relationships with people through intercultural and interfaith dialogue.
Please feel free to share these events in your networks.
---
About the speaker:
Emeritus Professor Gary Bouma, Monash University
Gary D Bouma AM is the UNESCO Chair in Intercultural and Interreligious Relations – Asia Pacific, Emeritus Professor of Sociology at Monash University, Australian node of the Religion and Diversity Project, University of Ottawa, Acting Director of the Global Terrorism Research Centre, and Associate Priest in the Anglican Parish of St John's East Malvern. He is President of the Australian Association for the Study of Religions. He was Chair, Board of Directors for The Parliament of the World's Religions 2009.
His research in the sociology of religion examines the management of religious diversity in plural multicultural societies, postmodernity as a context for doing theology, religion and terror, religion and public policy. He is the author or co-author of over 25 books. Recent books include: Australian Soul: Religion and Spirituality in the Twenty-First Century (Cambridge University Press); Democracy in Islam(Routledge); Religious Diversity in Southeast Asia and the Pacific Islands: National Case Studies (Springer); and Freedom of Religion and Belief in 21st Century Australia (Australian Human Rights Commission). His latest book is Being Faithful in Diversity: Religions and Social Policy in Multifaith Societies(ATF). He was invested as a Member of the Order of Australia (AM) for services to Sociology, to inter-religious relations and to the Anglican Church of Australia in 2013.
---
About the facilitator:
Dr Sev Ozdowski, Adjunct Professor, Dept of Peace and Conflict Studies, University of Sydney, Director Equity and Diversity, Western Sydney University
Dr Sev Ozdowski is a human rights advocate, educator and social researcher, former senior civil servant, and Australian Human Rights Commissioner and Disability Discrimination Commissioner from 2000 to 2005. Ozdowski is known for his support for Polish Solidarity movement in the 1980's, his defence of human rights of refugees, especially child asylum seekers detained in Australia and people with disabilities and mental illness as well as for his contribution to multicultural policies in Australia. Born in Poland, Ozdowski has a Master of Laws (LLM) and Master of Arts (MA) in Sociology from Poznań University, Poland and a Doctor of Philosophy (PhD) from the University of New England, Armidale, New South Wales. In 1984 he was awarded the Harkness Fellowship for post-graduate work at Harvard, Georgetown and Berkeley Universities in USA (1984–86).
As the Australian Human Rights Commissioner Ozdowski authored the report about the National Inquiry into Children in Immigration Detention (2004), A Last Resort?, which talks about the human rights of the children who arrived by boat to seek refuge in Australia. As Disability Discrimination Commissioner, in 2005 Ozdowski conducted the National Inquiry into Mental Health Services Not for Service. that resulted in a major change in the provision of mental health services.
Currently, Dr Ozdowski is the Director of the Equity and Diversity department at Western Sydney University, and Honorary Professor at the Department of Peace and Conflict Studies, the University of Sydney. Since 2006 President of the Australian Council for Human Rights Education, and initiator of annual International Human Rights Education Conferences series. In December 2014 Ozdowski has been appointed Chair of the Australian Multicultural Council by the Australian Government. On Australia Day 2016 he was appointed as Member of the Order of Australia for his contribution to human rights and multiculturalism.
Our Speakers
Emeritus Professor Gary Bouma