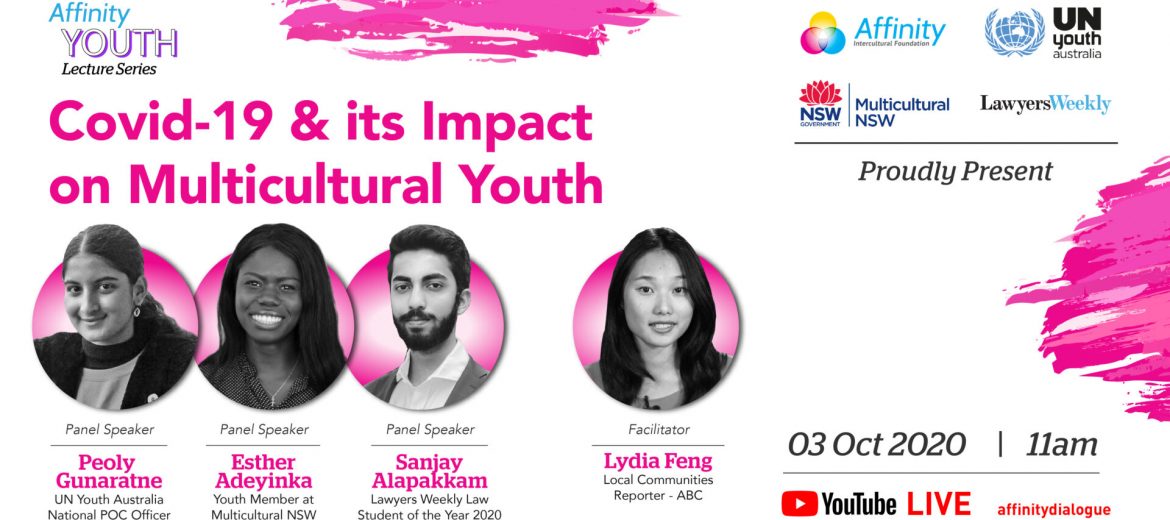 About The Event
Affinity has proudly collaborated with UN Youth NSW, Multicultural NSW & LawyersWeekly.
About this Event
Affinity has proudly collaborated with UN Youth NSW, Multicultural NSW & LawyersWeekly. Join us for an insightful webinar with the young voices of today. Peoly Gunaratne (UN Youth Australia National POC Offer ), Esther Adeyinka (Youth Member at Multicultural NSW Advisory Board) & Sanjay Alapakkam (LawyersWeekly Law Student of the Year 2020) will discuss with facilitator Lydia Feng (Local Communities Reporter ABC).
This webinar will go LIVE on 03 October 11am on Affinity's YouTube channel. Please click on the link: https://youtu.be/9YmqStilg7c
Make sure to register at: https://bit.ly/33edikp
Key Speakers:
Panel Speaker: Mr Sanjay Alapakkam
Sanjay is a fourth-year Commerce (Finance)/Law student at UNSW. He is a Research Assistant at the NSW Inspector of Custodial Services, Vice President (Social Justice) of the UNSW Law Society and will complete a clerkship at Clayton Utz this summer. Sanjay was awarded the Lawyers Weekly Australian Law Student of the Year Award 2020. He has previously worked at Playfair Visa and Migration Services (Refugee team) and volunteered at the Welfare Rights Centre (NSW). Additionally, he has been published in a peer-reviewed journal: the UNSW Law Society Court of Conscience, concerning the need for legislative reform in relation to Australia's responses to people seeking asylum.
Panel Speaker: Ms Esther Adeyinka
Esther Adeyinka is the Youth Member on the Multicultural New South Wales Advisory Board, an independent body that draws on the cultural diversity, skills and experience of its members to promote multiculturalism as an asset in New South Wales. She is an Associate at the District Court of NSW and owner of SHADIE BY EA.
Esther completed a Bachelor of Arts/Laws (Hons) in 2020, at the University of Notre Dame where she served as Student Advisor to the Vice-Chancellor of Notre Dame, Secretary of the Notre Dame Sydney Law Society and Education Officer for the Australian Law Students' Association.
Panel Speaker: Ms Peoly Gunaratne
Peoly Gunaratne is a first year studying a Bachelor of Politics, Philosophy and Economics at the University of New South Wales. She recently won the ZONTA International Young Women in Public Affairs award for her community service with her co founded youth organisation Provokewoke and her involvement in the Sri Lankan community. Since being appointed as the UN Youth POC and Womxn's Officer in July, Peoly has been collaborating with other facilitators to help improve the volunteering experiences of young people within the organisation. Through her activism, Peoly is most passionate about collective power and believes that young people have an immense responsibility to lead the environmental and racial justice movements of today.
Facilitator: Ms Lydia Feng
Lydia is a Sydney-based broadcast journalist with 10 years' experience and is currently Local Communities Reporter for ABC News where she covers issues concerning immigration and multicultural affairs. Prior to joining the ABC, she was a national reporter for SBS World News where her work took her on various international assignments. She has also written for the Sydney Morning Herald and Caixin, China's leading financial and investigative news organisation.
If a technological issue is experienced and the link becomes unavailable, please head to Affinity's YouTube page and wait for a new LIVE video stream to appear.