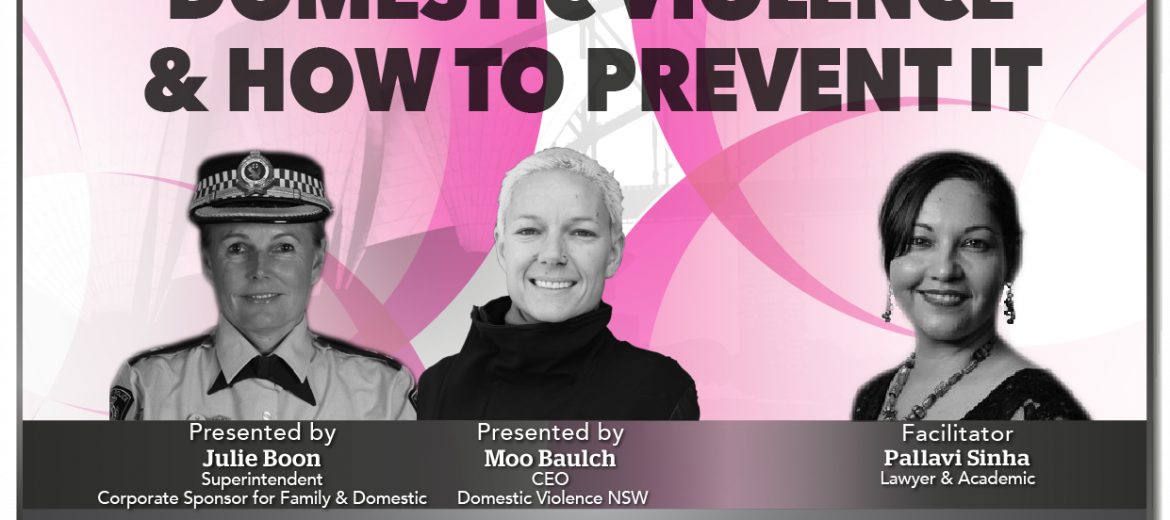 About The Event
Join us for an lunchtime panel discussion with Superintendent Julie Boon, Moo Baulch and Pallavi Sinha. The panel will be about 'Domestic Violence & How to Stop It'. Light lunch will be served at 12:00 pm. The panel will start at 12:30 pm.
About the Panellists:
Julie Boon | Superintendent, Corporate Sponsor for Family and Domestic Violence
Supt Boon joined the NSW Police Force in April 1990, two days after turning 22. She originally joined to complete her probationary period as a 'gap year' after completing her uni degree – this year, her 'gap year' will reach a quarter of a century.
Supt Boon has worked in diverse roles at different LACs and Units, including General Duties, Crash Investigation, and Project Management. She was Police Spokesperson for the Media Unit from 1999 until 2007.
Currently, she is Acting Commander at Mudgee LAC, overseeing all staff and an area covering 24,000 square kilometres.
Moo Baulch | CEO of Domestic Violence NSW
Moo Baulch is chief executive of Domestic Violence NSW, the state peak body for specialist domestic and family violence (DFV) services. She is part of a small team that works to improve policy and practice responses to women, children and communities impacted by violence.
Moo has worked in the non-government, not for profit sector in Australia, South East Asia, the UK and Spain over the last couple of decades. She believes that public awareness of domestic and family violence and sexual assault is at an unprecedented level and that cross-sector and community partnerships are key to the cultural and practical changes required for inclusive support.
She looks forward to the day when all children are taught in schools about the intersections between discrimination, bullying, violence and healthy respectful relationships.
About the Facilitator:
Pallavi Sinha | Academic & Lawyer, Appointed Supporter Joint Federal & State Campaign to Stop DV
Pallavi Sinha is a lawyer, Adjunct Lecturer at the College of Law and ANU and a former People of Australia Ambassador. She has completed Economics and Social Sciences and Law degrees with honours from the University of Sydney and works in the areas of immigration law and family law, and has represented asylum seekers and women who have experienced domestic violence.
Pallavi is actively involved with the Australian community, representing the Federation of Ethnic Communities Council Australia as Women's Committee Advisory Chair and is a former Lifeline counsellor. As a conference host, she speaks about empowerment in relation to the unique needs and challenges faced by women from diverse backgrounds.
Pallavi is also a freelance journalist and was presented an Excellence in Journalism award by the Global Organisation of People of Indian Origin in 2015.
Pallavi is a second generation Australian of Indian origin and speaks fluent Hindi.