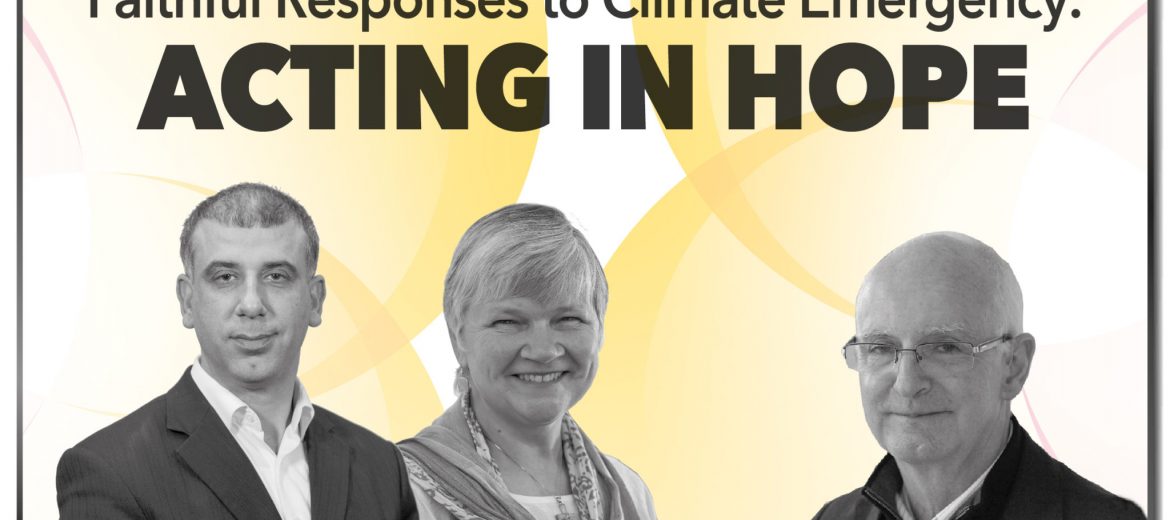 About The Event
Event Description
Assoc. Prof Mehmet Ozalp and Thea Ormerod will discuss: "Faithful Responses to Climate Emergency: Acting in Hope"
They would be able to discuss the below through the facilitator Assoc. Prof Clive Pearson:
Faced with talk of climate emergency, extinction rebellion, where are we to find hope?
How can the wider public be motivated?
How can we retain hope when some situations seem to be beyond repair, mitigation and adaptation means loss.
How does your faith inspire your thinking and activism?
Associate Professor Mehmet Ozalp, Charles Sturt University
Mehmet Ozalp is one of the most prominent Muslim communi ty leaders in Australia. He is a scholar, public intellectual, community leader and author serving the community since 1992. Mehmet is an Associate Professor of Islamic studies and the Director of the Centre for Islamic Studies and Civilisation (CISAC) which he founded at Charles Sturt University. He is the founder and Executive Director of ISRA (Islamic Sciences and Research Academy of Australia). Under his leadership, CISAC and ISRA pioneered Islamic Studies courses at the undergraduate and postgraduate level since 2011. Mehmet is the editor-in-chief of the Australian Journal of Islamic Studies. He serves on the executive committee of the strategic research centre Public and Contextual Theology (PaCT) linked to CSU. He serves on the Human Research Ethics Committee at the University of Sydney. Mehmet has been serving as the Muslim Chaplain at the University of Sydney since 2006. He has served as the Muslim chaplain at the Macquarie University 2006-2019. Mehmet was awarded Australian Bluestar Award in Education (2011) and Charles Sturt University Professional Excellence Award (2012), Australian Muslim Role Model of the Year award (2012) and Australian Muslim Lifetime Achievement Award (2018). Mehmet is the author of twenty-eight publications including the books: 101 Questions You Asked About Islam, Islam in the Modern World and Islam between Tradition and Modernity: An Australian Perspective. For Information regarding Mehmet Ozalp click here.
Thea Ormerod
President, Australian Religious Response to Climate Change
Thea is a Catholic Christian, a semi-retired social worker, grandmother and an advocate for action to curb global warming. She has long been involved in a range of social justice issues, mainly concerning global poverty. For the last eleven years Thea has been involved in the multi-faith climate action organisation, the Australian Religious Response to Climate Change (ARRCC, pronounced "ark") and is currently the President. Thea will talk about why hundreds of cities, States and religious leaders such as Pope Francis have declared a "climate emergency", and how some form of hope might be possible. As people of faith (or none), how do we respond ethically in the face of the destructive forces driving climate disruption? Without lapsing into denial, how do we maintain some equanimity, and even flourish somehow, in the face of such an uncertain future?
For Information regarding Thea Ormerod click here.
Facilitator
Assoc. Prof. Clive Pearson
Associate Professor Clive Pearson is a research fellow of the Public and Contextual Theology (PaCT) centre of Charles Sturt University. He was formerly Principal of United Theological College (North Parramatta) and, for a brief time, Head of the School of Theology, (CSU). He is a Fellow of the Center of Theological Inquiry (Princeton).
Clive is one of the three founding figures of the Global Network of Public Theology which embraces the practice of a public theology in 30 universities around the world. He is on the advisory editorial board of the International Journal of Public Theology and the Korean Presbyterian Journal of Theology. He was previously on similar boards for the journal Political Theology and Ecotheology. He was one of the series editors on cross-cultural theology published by Equinox Press (London).
Clive has been involved in the work of Affinity since its earliest days. He assisted in the establishment of the Centre for Islamic Sciences and Civilisation (CISAC) in Charles Sturt University. He oversaw the inclusion of ISRA / CISAC into the Global Network of Public Theology through its inclusion into PaCT. This is the first Muslim presence in the Global Network. He has collaborated in the writing of reports on Islamophobia and Halal certification.
Clive's research lies in the area of systematic theology and climate change / the Anthropocene; the relationship between a systematic and contextual theology in situations of migration, diaspora and linguistic diversity; and, the relationship of the Christian faith to Islam. He has recently published a chapter on cultural minorities and the common good in The Brill Handbook of Public Theology (2017). Later this year Westminster John Knox Press will publish a major anthology on a Reformed practical theology and ethics involving scholars from the world – Imagining A Way, which he edited and held together with a seminal extended introduction.
For Information regarding Clive Pearson click here.