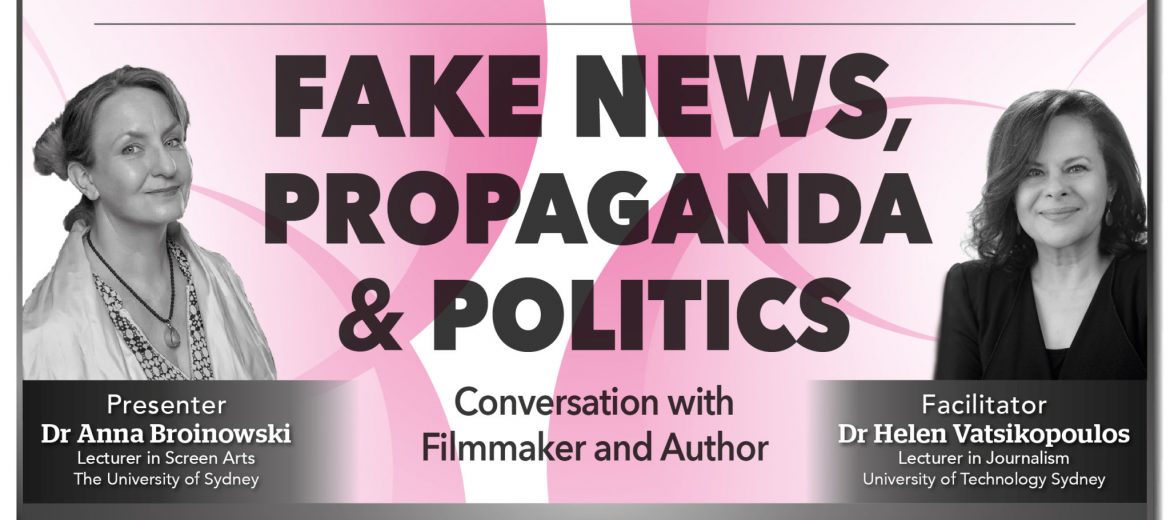 About The Event
Join us on Tuesday, 30 July for Affinity Evening Conversation Lecture with Dr Anna Broinowski, Filmmaker, Author and Lecturer in Screen Arts at the University of Sydney as she discusses the Fake News, Propaganda and Politics'. Light dinner will be served at 6:00pm. The conversation will begin at 6:30pm.
Event Description:
Dr Anna Broinowski will discuss North Korea (before and after the Trump/Kim summit), propaganda, fake news, Pauline Hanson and the rise of right-wing populism. Dr Broinowski will also discuss the making of her con-artist film Forbidden Lie$ – which exposed, in part, the anti-Arab propaganda proliferating in the Western media in the lead-up to the illegal invasion of Iraq.
All these themes are explored in her 2 books and 4 most recent films, Helen's War (SBS), Aim High in Creation! (ABC/Netflix), Forbidden Lie$ (SBS)and Hanson: Please Explain (SBS).
About the speaker:
Dr Anna Brionowski |Filmmaker, Author and Lecturer in Screen Arts at the University of Sydney
Dr Anna Broinowski is a multiple AACTA and Walkley-winning filmmaker and author who documents subversive political subjects. Her films regularly reach over one million views and include Helen's War (about anti-nuclear activist Dr Helen Caldicott); Aim High in Creation! (about North Korean propaganda cinema); Please Explain (about populist right-wing Senator Pauline Hanson); Sexing the Label (about queer Sydney in the 1990s) and Forbidden Lie$ (about hoax-author Norma Khouri). Anna's two books are The Director is the Commander (2015) and Please Explain: the rise, fall and rise again of Pauline Hanson (2017). A Screen Arts lecturer and researcher at Sydney University, Anna is currently working on a new magical feature set at Uluru, and investigating the rise of fake political videos online.
About the moderator:
Dr Helen Vatsikopoulos |Doctor of Creative Arts, Journalist, Documentary Maker, Lecturer at University of Technology Sydney
Dr Helen Vatsikopolous is a journalist with over 11 years experience at the SBS as a presenter, reporter and producer. She served as a reporter, producer and foreign correspondent at the ABC over a period of time spanning over 8 years. She attained her Doctorate in Creative Arts in 2011. She became a lecturer at the UTS where she lectures in creative intelligence and innovation. She is also a documentary supervisor and internship coordinator at the University of Technology Sydney. She co-produced and co-wrote an ABC/BBC documentary titled 'Frank Gehry's Treehouse'. She writes for the Conversation from time to time. Helen was an Erasmus Mundus visiting scholar in 2014 at the Aarhus University in Denmark.