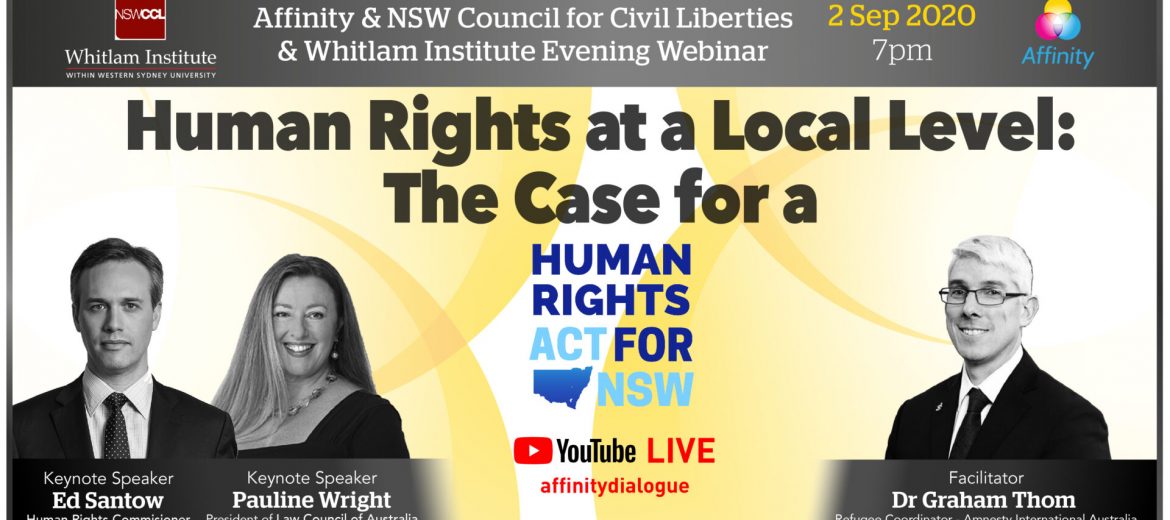 About The Event
Join us for an insightful webinar with Ed Santow, Human Rights Commissioner and Pauline Wright, President of Law Council Australia. This webinar will be facilitated by Dr Graham Thom, Refugee Coordinator Amnesty International Australia. Please click here to register.
About this webinar:
2020 marks the 75th Anniversary of the United Nations. Many of us understand the importance of human rights at an International level, but what about rights and freedoms in day-to-day life? How do we build respect for Human Rights at a local level, and promote a culture where everyone is treated fairly and equally, with dignity and respect.
Momentum is building in NSW to see a Human Rights Act guaranteed by law, a model similar to the legislative human rights mechanisms enacted in Queensland, the Australian Capital Territory and Victoria.
Find out more about how a Human Rights Act for NSW might work, and how an Act could benefit individuals and communities.
Key Speakers:
Keynote Speaker: Edward Santow has been Human Rights Commissioner at the Australian Human Rights Commission since August 2016. Ed leads the Commission's work on technology and human rights; refugees and migration; human rights issues affecting LGBTI people; counter-terrorism and national security; freedom of expression; freedom of religion; and implementing the Optional Protocol to the Convention Against Torture (OPCAT). Ed's areas of expertise include human rights, public law and discrimination law. He is a Visiting Professorial Fellow at the University of New South Wales (UNSW), a member of the World Economic Forum's Global Future Council on Human Rights and the Fourth Industrial Revolution, and serves on a number of boards and committees. In 2009, Ed was presented with an Australian Leadership Award, and in 2017, he was recognised as a Young Global Leader by the World Economic Forum. From 2010-2016, Ed was chief executive of the Public Interest Advocacy Centre, a leading non-profit organisation that promotes human rights through strategic litigation, policy development and education. Ed was previously a Senior Lecturer at UNSW Law School, a research director at the Gilbert + Tobin Centre of Public Law and a solicitor in private practice.
Keynote Speaker: Pauline Wright is a Partner Principal of P J Donnellan & Co Solicitors in Gosford. She was the President of the NSW Council for Civil Liberties from 2018 to 2019, having been Vice President since 1998, and has been active particularly in the areas of criminal justice, anti-terrorism and asylum-seeker policy. Ms Wright was President of the Law Society of NSW in 2017, having served on the Council of the Law Society of NSW since 1997. She also sits on a number of committees and working groups of the Law Council of Australia, including the Access to Justice Committee, Equal Opportunity Committee and the National Criminal Law Committee. She is also a keen ocean swimmer, surf lifesaver, singer, actor, theatre producer, director and writer.
Facilitator: Dr Graham Thom has been Amnesty International Australia's Refugee Coordinator since 2000, working on behalf of individual asylum seekers as well as on broader human rights issues relating to refugees. Dr Thom has also been a Board member of the NSW Asylum Seeker Centre for the last 10 years. Dr Thom has worked with urban refugees and visited refugee camps and detention centres in India, Thailand, Indonesia, Sri Lanka, Bangladesh, Malaysia, Syria, Iraq, Jordan, Kenya, the Netherlands, PNG, Nauru and Australia. Dr Thom publishes and lectures on domestic and international refugee issues and has represented Amnesty International at UNHCR's Annual NGO Consultations and the Annual Tripartite Consultations on Resettlement in Geneva, for the past thirteen years. He completed his doctoral thesis on post-war migration at the University of Sydney in 2000.