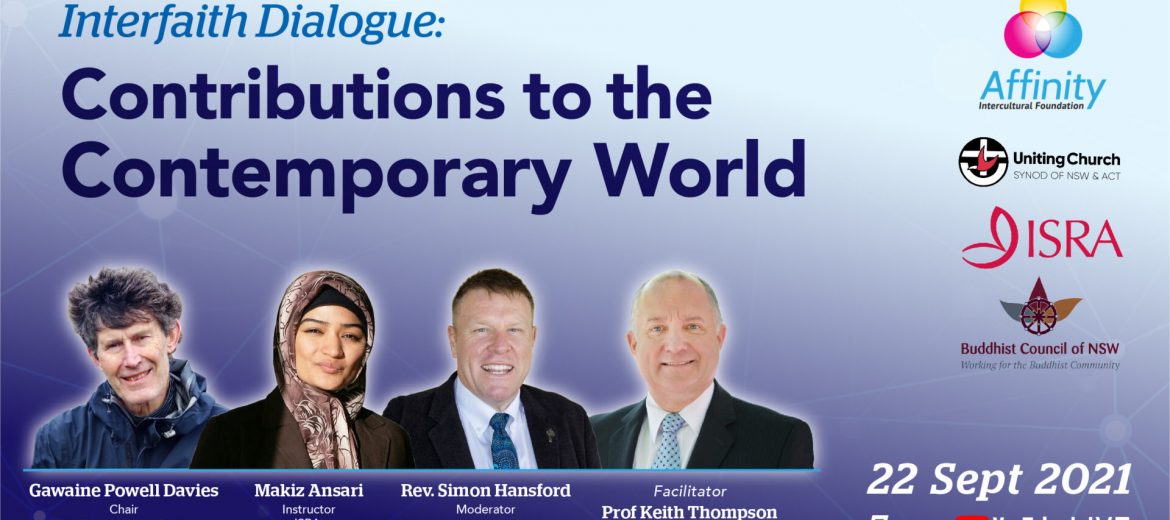 About The Event
ABOUT THE EVENT:
Interfaith teaching can be facilitated by faith and non-faith engagement to address issues such as the contributions to peacemaking made by dialogue between representatives of different religions. Panel speakers will show how different faiths can maintain their sense of identity yet simultaneously confront contemporary controversies, such as struggles for equality and for justice, as well as interfaith contributions to peaceful, socially coherent societies.
Interfaith dialogue can explore contemporary issues, compare judgements and identify where compromise can be reached, where people agree to disagree. Christians, Buddhists and Muslims may have different views but can learn from and enrich one another.
ABOUT THE SPEAKERS:
Gawaine Powell Davies grew up as a Christian and became a Buddhist about 20 years ago. He is a teacher in the Insight tradition, and Chair of the Buddhist Council of NSW, which brings him into contact with people of many different faiths. He is on the Board of the Nan Tien Institute and the research committee of SEIROS, a group investigating the impact of religious observance on philanthropy. Some of his most cherished interfaith experiences have been through iftar dinners.
With a background in economics and social sciences, Makiz Ansari found her passion in the area of theology and community services in 2003 and has been active in interfaith and intercultural dialogue activities since. From 2012 she has been a teacher in Amity College teaching Studies of Religion & Religion & Values for almost a decade now. Makiz is also an ISRA Instructor and runs courses in Islam for the community in general. She is currently in the process of completing her Masters of Islamic Studies Degree with Charles Sturt University.
Rev. Simon Hansford is the Moderator of the Synod of New South Wales and the Australian Capital Territory in the Uniting Church in Australia and was installed as Moderator on 29th September 2017. Simon is the 28th Moderator of the Synod. Simon has served in ordained ministry for more than thirty years, serving in rural and regional communities across New South Wales.
Keith Thompson is a Professor of Law and the Sydney School of Law and Business at The University of Notre Dame Australia where he has taught since 2012. He has previously worked as a partner at a commercial law firm in Auckland, New Zealand and as General Counsel for The Church of Jesus Christ of Latter-day Saints in the Pacific and through the African continent. He also serves as Managing Director and Secretary of SEIROS, The Study of the Economic Impact of Religion on Society Ltd – www.seiros.study
#dialogue #interfaith #peace #religions #equality #justice #society #christian #buddhist #muslim
YouTube LIVE link: https://youtu.be/i7vNj2jJFtc