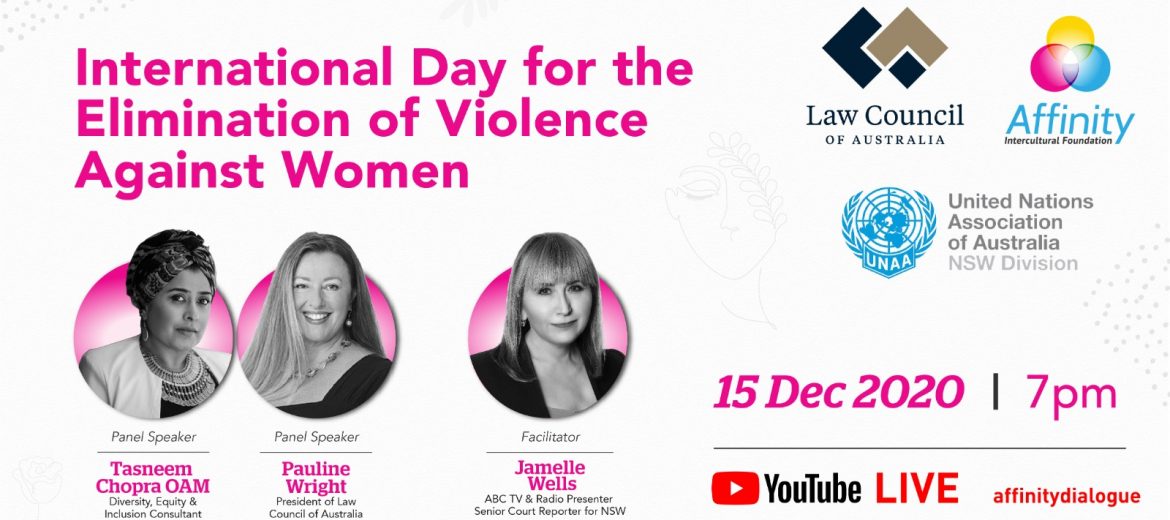 About The Event
Join us for an insightful webinar in recognition of the International Day for the Elimination of Violence Against Women. Affinity has proudly partnered with Law Council of Australia and UNAA NSW.
Violence against women and girls is one of the most widespread, persistent and devastating human rights violations in our world today remains largely unreported due to the impunity, silence, stigma and shame surrounding it.
This webinar will go LIVE on 15 December 7pm on Affinity's YouTube channel: https://youtu.be/HgSLghDgOUU
To register click here.
Key Speakers:
Panel Speaker: Tasneem Chopra OAM
A Cross-cultural Consultant, Tasneem addresses issues of diversity, equity and inclusion across organisational leadership, including intersectionality within government, corporate and community sectors.
For her efforts in cultural competence and community engagement she was acknowledged with an OAM (Order of Australia Medal) in 2020. This follows her being named an Anti-Racism Champion by the Australian Human Rights Commission in 2019.
In addition to her Consultancy, Tasneem is a Director for The Australian Centre for the Moving Image (ACMI), Fire Rescue Victoria SAB, The Crescent Institute, the South Asian Australian's Researching Ideas (SAARI) and an advisor to InTouch Multicultural Centre Against Family Violence and the La Trobe University School of Humanities. She has also enjoyed governance affiliations with Ambulance Victoria, the Luke Batty Foundation, NOW Australia, the Australian Muslim Women's Centre for Human Rights and Lentil As Anything.
A TEDxMelbourne presenter, Tasneem has featured on BBC World, Al Jazeera and ABC's Q&A, The Drum and Radio Melbourne where she is a regular panellist and sought after commentator. She is a published author and has also written for The Guardian, SBS Voices & The Age as well as several academic publications. As an international festival and conference presenter, Tasneem's most recent appearances include: the IABC World Conference (Bahrain), the Bradford Literature Festival, (UK) and The Concordia Forum, (Canada).
Panel Speaker: Pauline Wright
Pauline Wright is a Partner Principal of P J Donnellan & Co Solicitors in Gosford. She was the President of the NSW Council for Civil Liberties from 2018 to 2019, having been Vice President since 1998, and has been active particularly in the areas of criminal justice, anti-terrorism and asylum-seeker policy.
Ms Wright was President of the Law Society of NSW in 2017, having served on the Council of the Law Society of NSW since 1997. She also sits on a number of committees and working groups of the Law Council of Australia, including the Access to Justice Committee, Equal Opportunity Committee and the National Criminal Law Committee. She is also a keen ocean swimmer, surf lifesaver, singer, actor, theatre producer, director and writer.
Facilitator: Jamelle Wells
Jamelle Wells is an ABC television and radio Newsreader and the Senior Court Reporter for New South Wales. She works across television, radio and online. Jamelle has covered some of Australia's highest profile cases including the ICAC inquiries into former NSW Labor Government Ministers, the Gordon Wood, Keli Lane and Jeffrey Gilham murder trials, Australia's longest running terrorism trial and the church sex abuse inquiries. She has also covered cases involving billionaire Gina Rinehart and the trial of singer Leonard Cohen's former partner Keli Lynch in Los Angeles. Before Jamelle joined the ABC in 2002 she was a Newsreader for stations including 2GB and 2WS and the editor of My Business Success magazine. She is author of The Court Reporter, ABC Books.