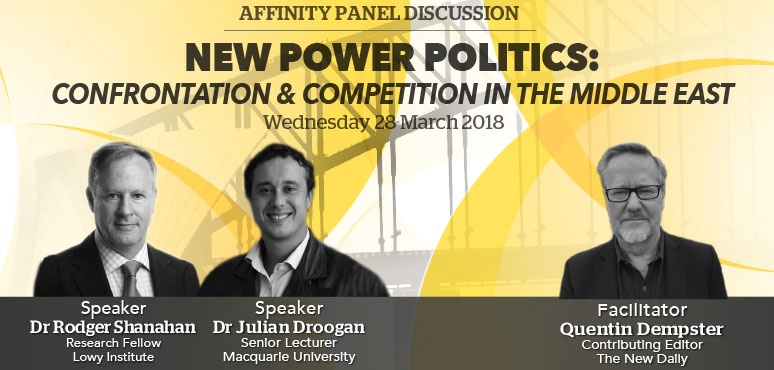 About The Event
About the facilitator
Quentin Dempster:
Quentin Dempster AM is contributing editor of The New Daily. He is chairman of the Walkley Foundation which administers the annual Walkley Awards for excellence in Australian journalism. He is a former ABC TV current affairs presenter and interviewer and the author of three books: Honest Cops; Whistleblowers and Death Struggle. In 1986 he wrote and produced The Sunshine system, an ABC TV documentary about institutionalised corruption in Queensland. In 1992 he was made a member of the Order of Australia for his services to journalism and current affairs.
About the speakers:
Dr Rodger Shanahan:
Dr Rodger Shanahan is a Research Fellow at the Lowy Institute. A former army officer, he had extensive service within the Parachute Battalion Group (PBG) and has had operational service with the UN in South Lebanon and Syria, with the PBG in East Timor, in Beirut during the 2006 war, and in Afghanistan. He was the former director of the Army's Land Warfare Studies Centre, and has also been posted to the Australian Embassies in Riyadh and Abu Dhabi. Dr Shanahan has MAs in International Relations and Middle East Studies from the ANU, and a PhD in Arab and Islamic Studies from the University of Sydney. He is also a part-time member of the Refugee Review Tribunal. He has written numerous journal, media and policy articles, is a frequent commentator on Middle East issues for Australian and international media, has appeared as an expert witness for several terrorism trials in Australia and is the author of Clans, Parties and Clerics: the Shi'a of Lebanon.
Dr Julian Droogan:

Julian studied anthropology, Asian history and culture and religious studies at the University of Sydney, and wrote on religious identity formation for his postgraduate research work. Since joining Macquarie Julian has been the course convener for the PICT901: International Security and PICT913: Asia Pacific Security, and is currently the Coordinator of Learning and Teaching. Julian's research projects include an ongoing program examining and assessing Countering Violent Extremism (CVE) in Australia, especially at ways that academics and industry can work together to produce CVE outcomes. Julian also has an interest in the relationship between religions and international security in the Middle East and the Asia Pacific. Julian is the Editor-in-Chief of the Journal of Policing, Intelligence and Counter Terrorism (JPICT), an international peer-reviewed academic journal published by Routledge.