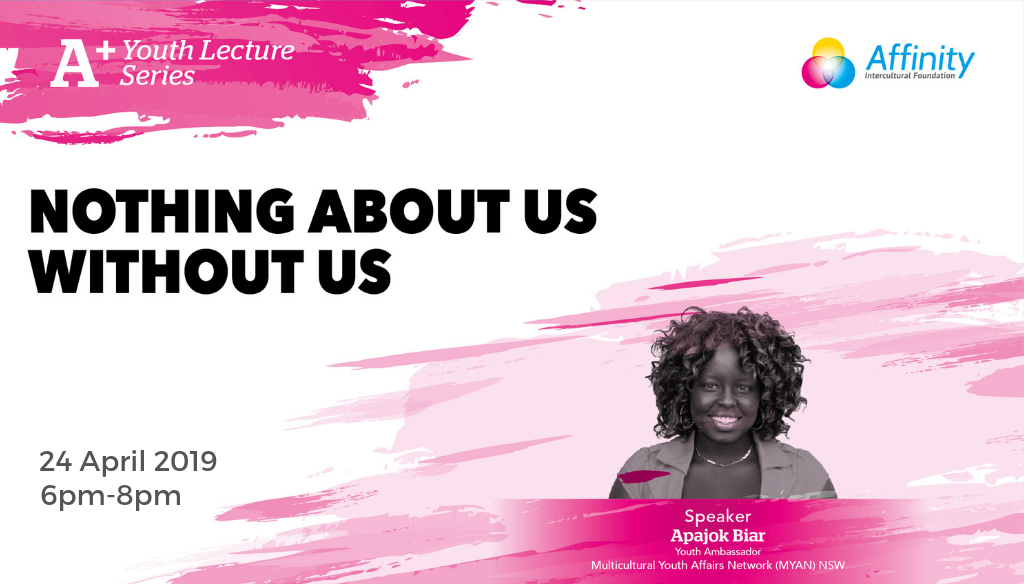 About The Event
Apajok Biar | Youth Ambassador, Multicultural Youth Affairs Network (MYAN)

Born in a refugee camp in Kenya, Apajok arrived in Australia with her family as a curious 2-year-old toddler. At 23 years of age now she is already living a big life and making a difference to many. Juggling many passions, she has just completed a Bachelor of Social Work at Western Sydney University. She also volunteers at her local community centre engaging with refugee young people, and is chairperson and co-founder of South Sudan Voices of Salvation Inc, a not-for-profit youth run and led organisation.
A youth advisor for Multicultural NSW, MYAN NSW Multicultural Youth Ambassador and currently the Youth Participation officer with Cumberland council, Apajok is passionate about advocating for South Sudanese youth, speaking up against all forms of injustice and violations of human rights. Apajok had a chance to provide evidence at the Senate inquiry into settlement and after speaking on national television advocating for multiculturalism and equality.
Apajok was the Refugee Youth Advocate to represent Australia & New Zealand this June in Geneva at the United Nations High Commission for Refugees, and be on a panel discussing what youth involvement is and importance of having refugee young people at the table in any discussion that affects them. She was part of the Gender Audit team to UNHCR as a refugee women representative. Apajok was a finalist for the women's weekly, women of the future 2017 award. Apajok was Awarded the 2017 Western Sydney Refugee Youth Award, recognition of outstanding achievement in the field of community leadership. Apajok was also a semi-finalist for 2018 young achieves the award in community leadership for NSW & ACT.