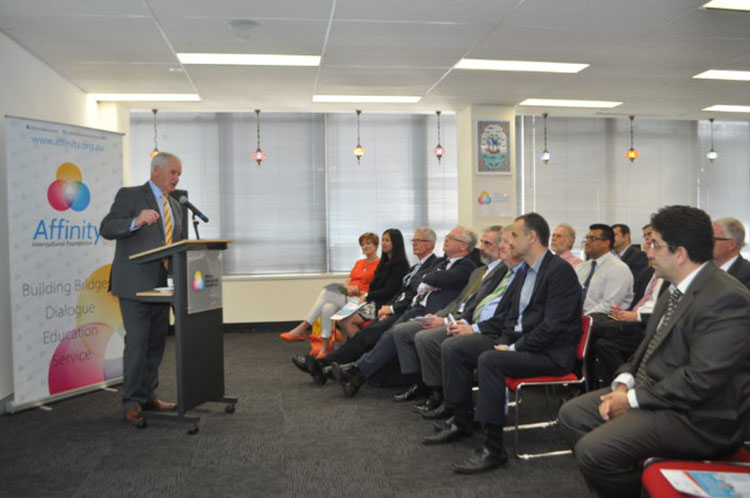 About The Event
We are one but we are many: An insight into the diversity of the NSW independent schools sector
On Wednesday 25 October, Affinity Intercultural Foundation hosted a Lunchtime Lecture with Michael Carr, the Acting Executive Officer of the Association of Independent Schools of NSW (AISNSW). The program was facilitated by Professor Mark Hutchinson, Dean of Education, Arts and Social Sciences at Alphacrucis College.
The event attracted a turnout of more than 40 guests, who attended his presentation titled, We are one but we are many: independent schools making a difference.
The AISNSW is the peak body for independent schools in NSW and represents the interests of all independent schools in consultation with governments, statutory authorities and a wide range of other education stakeholders.
The non-profit body focuses on offering quality support to its member schools in areas of governance, employment relations, compliance as well as professional development and educational consultancy services.
Michael used his presentation as an opportunity to demystify many of the myths surrounding the New South Wales independent schools sector. He also profiled the sector as a whole and provided insights into 'typical' independent schools.
He shared that presently, the AISNSW has 421 member schools, with 31% of those being non-faith based while 69% are faith based. There are 41 special schools that cater to students with specific needs, as well as 53 boarding schools. Forty six per cent of these schools enrol fewer than 200 students and 65% have a socio-economic statue of less than 104.
Michael also examined the sector's demography in terms of its relationship with Indigenous students, students with disabilities, multicultural based schools and the contribution independent schools make to Australian society.
He also shared the statistic that independent schools in NSW enrolled 8,774 students with a disability and 3,759 Indigenous students.
Michael shared that an increasing number of students are choosing to send their children to non-government, independent NSW schools due to a number of reasons, including the primary fact that an independent school education provides a greater focus on well-rounded education as well as high academic standards.
Michael concluded his talk by commenting on the education standards of independent schools in NSW.
Overall, NSW independent schools have a diverse range of students who generally perform well regardless of cultural background. In particular, students from migrant backgrounds perform at least as well or better, than students who were born in Australia.
Our Speakers
Professor Mark Hutchinson