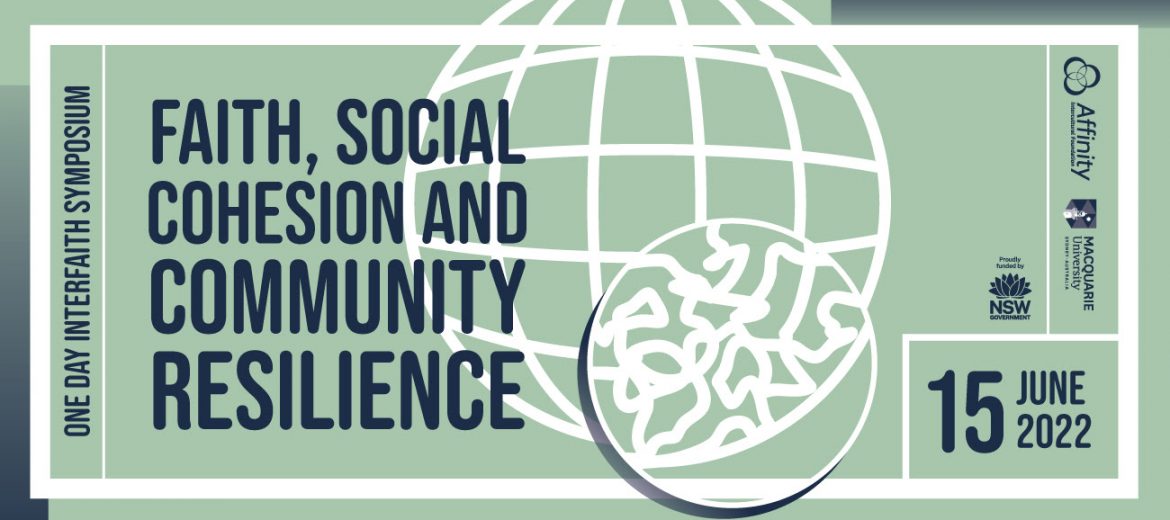 About The Event
The Affinity Intercultural Foundation together with Macquarie University invites you to attend their one-day interfaith symposium, 'Faith, Social Cohesion & Community Resilience'. This program is proudly funded by the NSW Government.

To overcome current global challenges that affect NSW communities, the fallout from the global health crisis brought about by Covid-19, and to prevent extremism and hate, there is a need for a continuous dialogue between religious groups, actors, and activists in society. This symposium aims to promote grassroots-level community dialogue to establish mutual understanding, respect, trust, and cooperation in the educational process of interfaith dialogue.

Date: Wednesday 15 June

Time: 8:45 am – 5:00 pm
*8.30 am arrival for an 8.45 am start*


Venue: Macquarie University City Campus
Level 24/123 Pitt St, Sydney NSW 2000

Morning tea, lunch & afternoon tea will be provided


*** We kindly ask you to RSVP by Thursday 9 June to secure your reservation. ***

This event is by invitation only due to the limited seats available. We thank you for your kind understanding.
Panels:
– Definitions and Intersections: The power of faith in building social cohesion
– How is Covid-19 being used by extremists within faith groups and what are the social impacts of Covid-19 and misinformation, disinformation, and conspiracy theories?

– How can faith communities respond when symbols of faith are appropriated by hate groups?

– How can religious actors build bridges across communities impacted by recent crises?

– Interreligious and cultural dialogue approaches and solution examples in solving these problems

– Youth Leadership Perspectives on Extremism & Belonging

– Empowering religious leaders & communities: What is the role of faith in building social cohesion?
Join to hear from our speakers:

– Professor Dr John Esposito, Professor of Religion, International Affairs, and Islamic Studies at Georgetown University in Washington, & Founding Director of the Center for Muslim-Christian Understanding and The Bridge Initiative

– Maha Krayem Abdo OAM, CEO of Muslim Women Australia

– Tushar Gandhi, President & Founder of Mahatma Gandhi Foundation and great-grandson of Mahatma Gandhi

– Associate Professor Julian Droogan, Associate Professor in Terrorism Studies at the Department of Security Studies and Criminology, Macquarie University

– Professor Greg Barton, Professor of Global Islamic Politics, Alfred Deakin Institute, Deakin University

– Professor Kevin Dunn, Professor and Pro Vice Chancellor Research, Western Sydney University

– Emeritus Professor Desmond Cahill OAM, Emeritus Professor of Intercultural Studies, RMIT University

– Dr Derya Iner, Senior Lecturer, Research Coordinator, CISAC, CSU and Director, Islamophobia Register Australia

– Rev Dr Patrick McInerney, Director of the Columban Centre for Christian-Muslim Relations

– Charles Allen APM, The Director of Partnerships with the Institute for Economics and Peace

– Dr Rattan Virk, Co-Chair India Australia Strategic Alliance (IASA)/Senior Rehabilitation Consultation

– Very Reverend Dr Fr Shenouda, Ordained Priest at Coptic Orthodox Church & The General Secretary of NSW Ecumenical Council

– Dr Robyn Moloney, Honorary Senior Lecturer, School of Education, Faculty of Arts, Macquarie University

– Dr Malcom Haddon, Associate Director Community Resilience, Multicultural NSW

– Associate Professor Salih Yucel, Associate Professor in Islamic Studies, Centre for Islamic Studies and Civilisation, Charles Sturt University/ Australian Catholic University

– Reverend Simon Hansford, The Moderator of the Synod of NSW and the ACT in the Uniting Church in Australia

– Dr Aaron Ghiloni, Director, St James' Institute

– Surinder Jain, National Vice President, Hindu Council of Australia

– Ibrahim Taha, Recipient of the 2019 NSW Premier Youth medal & Final year law student, University of Sydney

– Matthew D'Souza, Mechatronic Engineer

– Annalise Awkar, Assistant Project Officer Community Resilience, Multicultural NSW

– Rachel Marie, Communications Professional and Jewish community leader

– Jeremy Jones AM, Director of International and of Community Affairs, Australia/Israel & Jewish Affairs Council

– Zia Ahmad, Managing Editor, Australasian Muslim Times AMUST

– Rev Dr Amelia Koh-Butler, Minister, Eastwood Uniting Church
Our Speakers
Associate Professor Julian Droogan
Emeritus Professor Desmond Cahill OAM