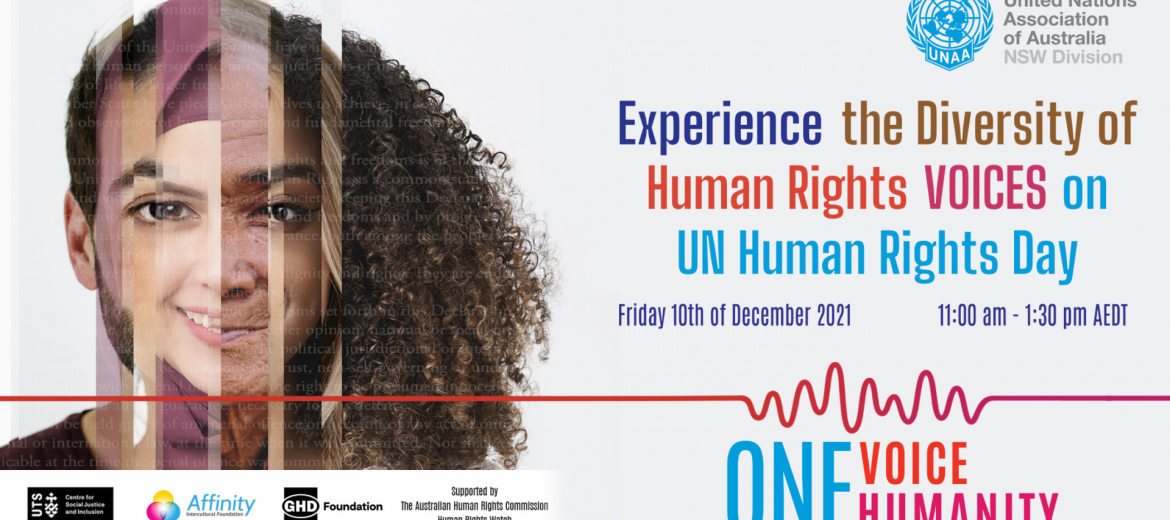 About The Event
One Voice, One Humanity is a two-hour online program curated by the UNAA (NSW) Human Rights Pillar, in partnership with the Centre for Social Justice and Inclusion (UTS), and Affinity Intercultural Foundation to celebrate Human Rights Day.
The program brings together voices from a variety of communities to shed light on the complexity of the Human Rights issues, create awareness of the challenges, and highlight the ongoing achievements. The diversity of voices from Indigenous, multicultural, refugee, youth, ageing, disability, and LGBTQIA+ communities aims to showcase our shared humanity and reaffirm the importance of Human Rights both within Australia and internationally.
Speakers will touch on a range of themes such as:
Embracing our common humanity
Pivoting the impact of COVID
The future of Human Rights
The intersection of sports and Human Rights
One Voice, One Humanity will feature Australian of the Year Craig Foster, Senator Mehreen Faruqi, performances by the acclaimed Bangarra Dance Company and many more.
Join us in celebrating Human Rights Day 2021 by listening to the many voices of humanity while we look toward the future with hope and resilience.