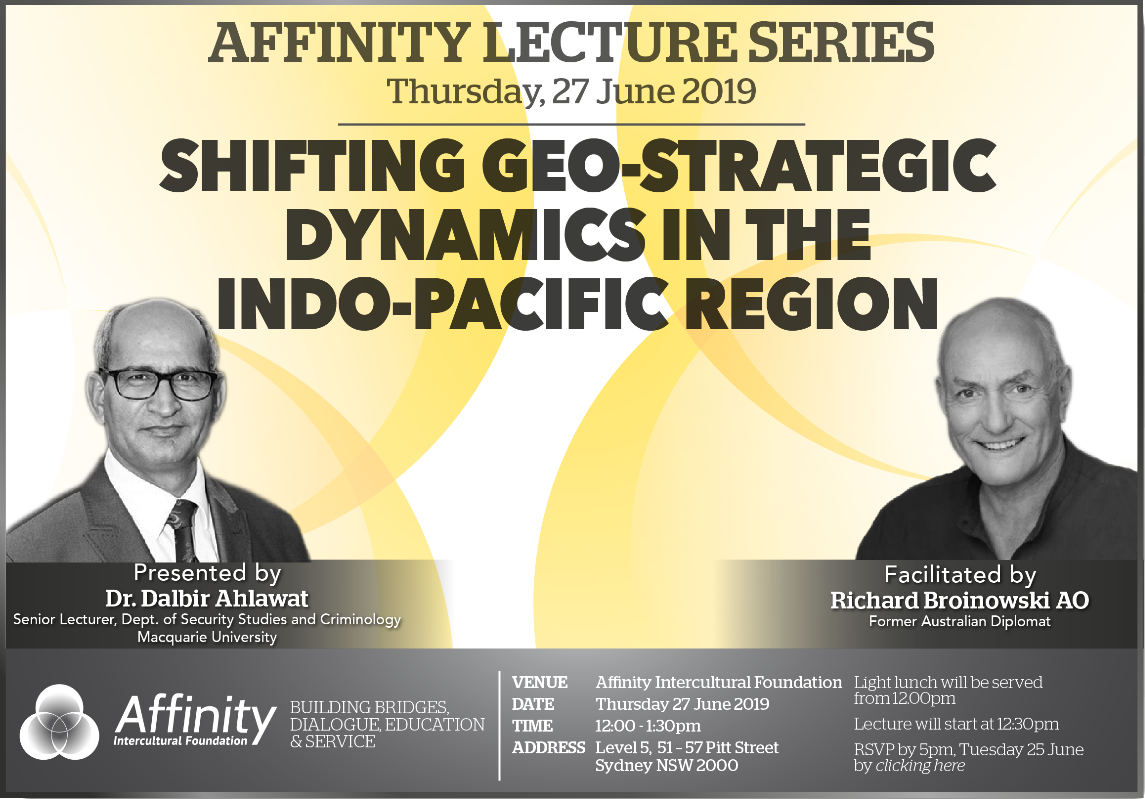 About The Event
Join us on Thursday, 27 June for another Affinity Lecture with Prof. Dalbir Ahlawat, Senior Lecturer, Department of Security Studies and Criminology at Macquarie University as he discusses the Shifting Geo-strategic Dynamics in the Indo-Pacific Region. The event will be facilitated by Richard Broinowski, Former Diplomat. Light lunch will be served at 12:00pm. The talk will begin at 12:30pm.
About the speaker:
Prof. Dalbir Ahlawat | Senior Lecturer, Department of Security Studies and Criminology at Macquarie University
Dr Ahlawat has broad experience of working with government agencies and academic institutions. He has worked as an Honorary Associate with Macquarie University, Visiting Fellow with University of New South Wales and Center Associate with University of Pittsburgh-USA. In addition, he has worked in collaboration with the United Nations High Commissioner for Refugees and International Organization for Migration.
Dr Ahlawat has over 15 years' experience in conducting research on topics related to strategic and security issues. He has worked in/on Latin American countries, United States, African region, Asia and Australia. Based on the research outcomes he has published three books and more than 20 research papers in journals, edited books and think tank publications. In addition to his research and publications, he has wide experience of research supervision that include PhD and Post Graduate research projects supervision.
About the facilitator:
Richard Broinowski AO | Former Diplomat
Richard Broinowski is a former Australian diplomat. He served as Ambassador to Vietnam, Republic of Korea, and to Mexico, Central American Republics and Cuba.
He was also General Manager of Radio Australia. On retirement, Richard was an Adjunct Professor in Communications at Sydney University. From 2014 to 2017 he was also President, NSW Chapter of the Australian Institute of International Affairs. He is now a writer and public commentator on Australia's foreign policies. His books include A Witness to History (MUP 2001), Fact and Fission: the truth about Australia's Nuclear Ambitions (Scribe, 2003), Driven, an autobiography (HarperCollins 2009), and Fallout from Fukushima (Scribe 2012).