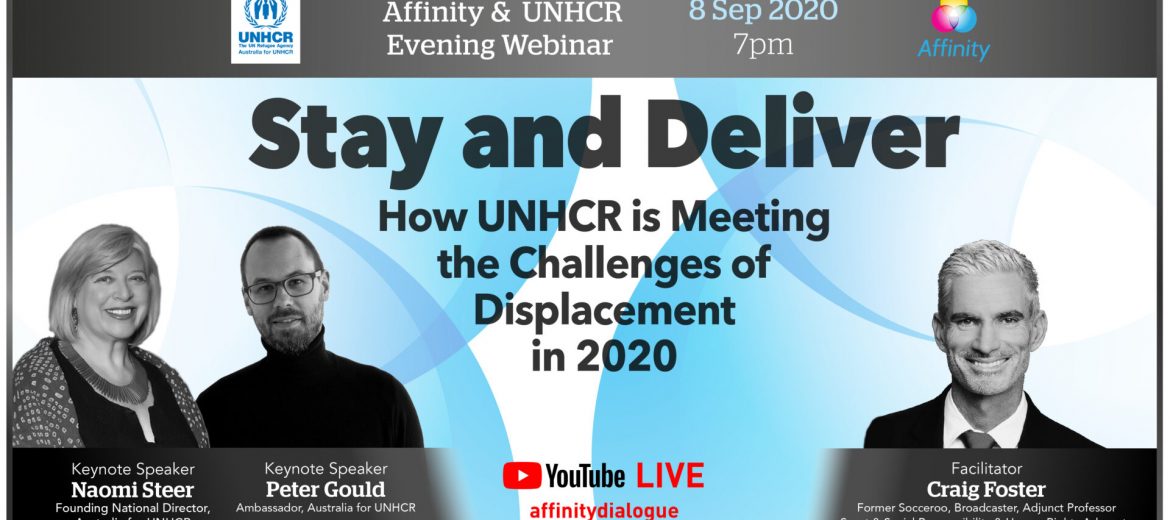 About The Event
Join us for an insightful webinar with Affinity and Australia for UNHCR's National Director Naomi Steer and Ambassador for Islamic philanthropy Peter Gould, in conversation with Craig Foster.
"Stay and deliver" is the commitment made by UN Refugee Agency staff – whether it's disastrous explosions in Beirut or the threat of coronavirus, and this year refugees have faced a wave of humanitarian challenges in Yemen, Syria and around the globe. Find out why it's important to bring together people with different skills, cultural backgrounds and experience in humanitarian operations, as well as the difference that support from Australian donors has made for people forced to flee their home by conflict, persecution and disaster.
Registration Required – Please click here
Key Speakers:
Keynote Speakers: Naomi Steer is National Director for Australia for UNHCR, which is responsible for the UN Refugee Agency's private sector partnerships in Australia. Her role includes missions to global refugee situations to consult with displaced communities, report back to donors and identify opportunities for the Australian private sector to directly fund projects.
Naomi presents regularly and is widely published on global humanitarian issues, and in particular the impact of conflict and displacement on women and girls. Naomi is a Trustee of First State Super in Australia and a Director of the Sydney Financial Forum. Naomi has an MSc (Distinction – Security, Conflict and International Development) from Leicester University, and a LLB/BA (Hons – Political Science) from the UNSW. She is also a graduate of the Harvard University Executive program.
Keynote Speakers: Peter Gould & his creative studio team help purpose driven organisations craft brands, products and experiences through design, research and a deep understanding of Muslim audiences.
Over nearly 20 years, his clients have included United Nations, Etihad Airways, Dubai Culture and a diverse portfolio from senior government projects to $100m startups. Recent highlights include the Salam Sisters brand designed to empower & inspire young girls to dream big. Peter's personal spiritual journey has been a major influence on his creative work. His contribution in founding creative platforms, events and community initiatives has resulted in global recognition including a major award from the UAE Prime Minister. He is a recipient of the Stanford Certificate of Innovation & Entrepreneurship and has lectured Design Thinking at the University of Technology Sydney. Peter teaches through his online platform, The Heart of Design, and facilitates workshops to audiences globally. His vision is to encourage a heart-centred design movement that enriches humanity with deeper cross-cultural understanding and spiritually-inspired entrepreneurship.
Facilitator: Craig Foster is an Australian sporting national treasure, following a distinguished playing career in both Australia and internationally, Craig has had an equally distinguished career as a commentator, and is perhaps best known as the Chief Football Analyst/ World News Australia at SBS Television. Over all of this however is his remarkable one man crusade to come to the aid of Hakeem Al Arabi the young footballer caught in a three way political tug of war for his freedom. Craig raised the support of the football community world-wide and stirred governments to the release and return of Hakim to Australia, when he could have faced prison and torture in a Bahrain prison. The story is told in his recent book Fighting for Hakim.
Most recently Craig has been outspoken in calls for the sporting organisations to turn their strengths into support for local communities stressed by events of this past year from the bushfires to the COVID crisis.