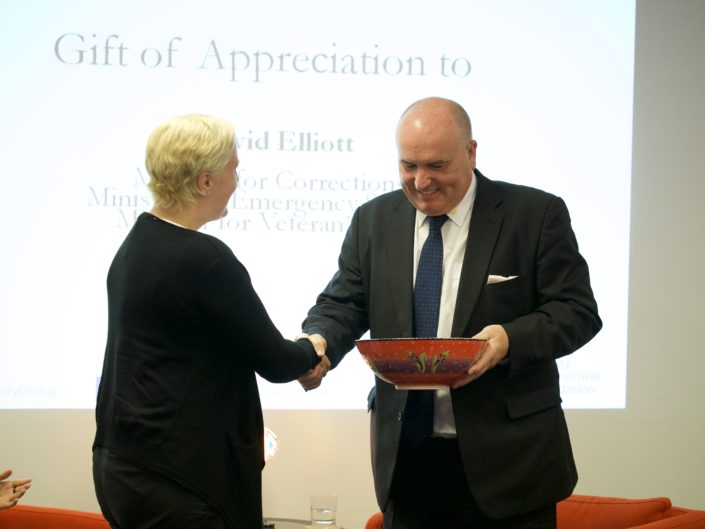 About The Event
Talking about war, returning soldiers and the veteran experience
On Tuesday 7 November, Affinity Intercultural Foundation continued their popular Morning Conversation lecture series, with a conversation between David Elliott MP, Minister for Counter On Tuesday 7 November, Affinity hosted a Morning Conversation between David Elliott MP, Minister for Counter Terrorism, Emergency Services and Veteran Affairs and Catalina Florez, Senior Journalist from Channel Ten.
The morning kicked off with a special performance of the ney (a flute popular in Middle Eastern music) and a delicious light Turkish breakfast.
The Minister began by sharing his experience of growing up in working-class family in Bankstown and being fascinated by war museums and memorials from a young age. Little did he know that this newfound interest would lead to an illustrious career in the army.
"I thought my mum was an enlightened woman for taking me to all these museums and art galleries, but it turns out she took me because they were free to visit!" the Minister laughed.
The Minister described this firsthand experience serving in the Australian army as the "perfect apprenticeship" for his current role as the Minister for Veteran Affairs. He believes this experience allows him to understand the needs and support structures that are necessary for modern Australian soldiers.
Touching on the subject of providing support to veterans and returning soldiers, the Minister highlighted the government's employment programs, which have helped returning soldiers transition back into civilian life.
'The government has implemented veteran employment programs that have placed returning soldiers back into employment," he said.
The Minister also touched on the importance of diversity within the armed services, stating that, "the modern army of today is becoming reflective of Australian society…when you join the military, all your differences are broken down; existing prejudices gradually break away,"
"The ANZAC spirit of courage, conviction, discipline, education and tolerance is important in the modern Australian army." he added. The Minister concluded by sharing fond memories of his most recent trip to commemorate the Centenary of the Battle of Beersheba in Israel.