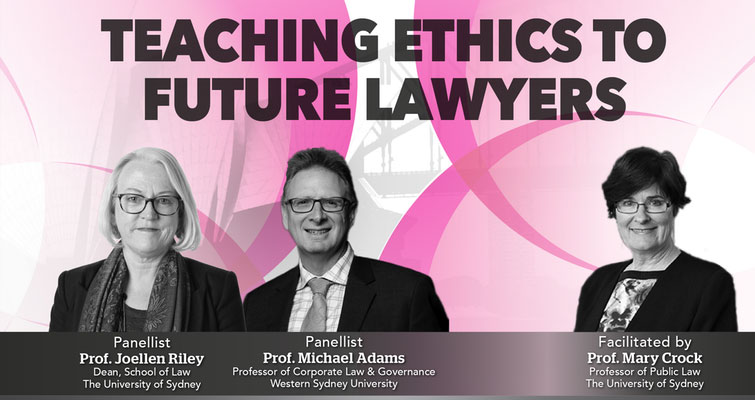 About The Event
About the panellists:
Professor Joellen Riley
Professor Joellen Riley is Dean and Professor of Labour Law at the University of Sydney Law School. She holds degrees in Law from the universities of Sydney and Oxford, and has been teaching and researching in the field of employment and industrial law since 1998. She joined academia after a short time in commercial legal practice, and has served as a consultant to specialist employment law firms, most recently People + Culture Strategies in Sydney. Her publications include Employee Protection at Common Law (Federation Press, 2005), and the The Law of Work (OUP, 2007 and 2011) (with Rosemary Owens and Jill Murray). She is also one of the authors on the most recent edition of Macken's Law of Employment (Thomson 2016)and has written a number of books on federal workplace legislation.
Professor Michael Adams
Professor Michael Adams is an internationally recognised specialist in corporate law, governance, securities markets regulation, and legal education (especially e-learning). Michael has been writing, teaching and regularly presenting on all these topics for over 20 years. He is a Fellow of the Australian College of Educators (FACE), as well as the Australian Academy of Law (FAAL), and is also a Fellow of the Governance Institute of Australia (FGIA & UK FCIS). Professor Adams has been the former President of the Australasian Law Teachers Association, the Corporate Law Teachers Association and Chartered Secretaries Australia (now Governance Institute of Australia). He is the co-author of ten books and 30 chapters, 50 articles and over 250 conference/seminar presentations. In 2000 he was the recipient of the Australian University Teacher of the Year, for Law and Legal Studies, as well as 2005 CSA President's Award.
About the facilitator:
Professor Mary Crock
Professor Mary Crock is Professor of Public Law at Sydney Law School, a Fellow of the Australian Academy of Law, solicitor and Accredited Specialist in Immigration Law. Her expertise spans immigration, citizenship and refugee law, administrative and constitutional law, public international law, particularly human rights and international refugee law, and comparative law. She has published 13 books (including a leading text on Australian immigration and refugee law), over 70 refereed articles and book chapters and many other pieces; delivered hundreds of public lectures and has been awarded over 2.2 million dollars in research grants. Her research has been cited frequently in Australia's Federal Courts and High Court and she has given evidence before a many parliamentary hearings in Australia and (once) in Canada. She has worked as adviser to the Australian Senate (Inquiry into Australia's Refugee and Humanitarian Program, 2000); consultant to the Human Rights and Equal Opportunity Commission (on immigration detention); and consultant to the Royal Commission into Child Sex Abuse (on children in immigration detention). She is frequently consulted by, and contributes opinion pieces to, the national and international media.