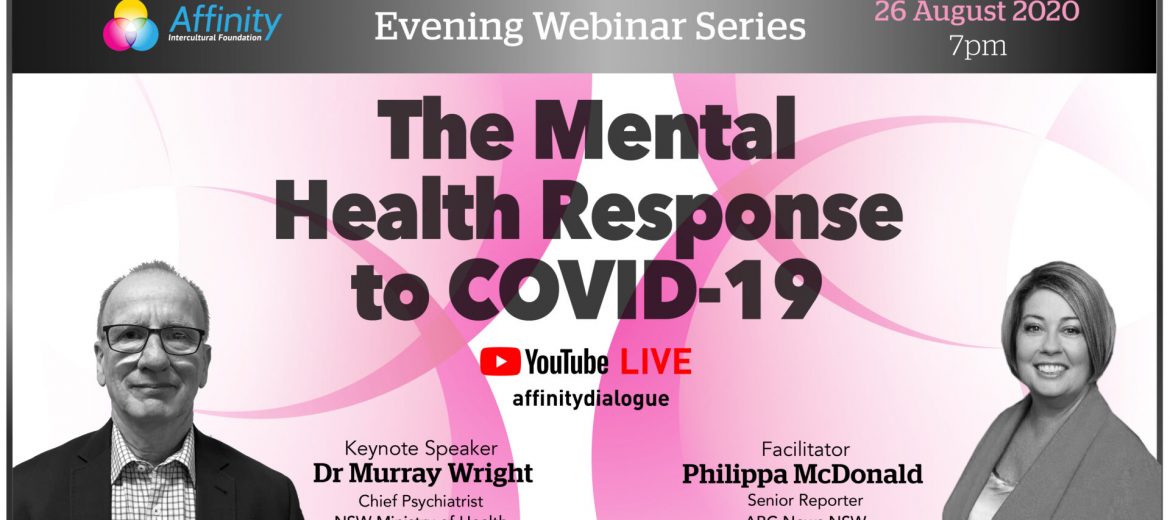 About The Event
Affinity has proudly brought to you the third webinar episode of the COVID-19 series: 'The Mental Health Response to COVID-19'
About this Event
Dr Murray Wright, Chief Psychiatrist NSW Ministry of Health, will discuss the impact of COVID-19 on mental health.
Affinity is honoured to host you as our virtual guest. This webinar will go LIVE on 26 August 7pm on Affinity's YouTube channel. Please click on the link: https://youtu.be/j53KmW3pJ3s
If a technological issue is experienced and the link becomes unavailable, please head to Affinity's YouTube page and wait for a new LIVE video stream to appear. https://www.youtube.com/user/AffinityDialogue/videos
Please make sure to register by clicking here
Key Speakers:
Keynote Speaker: Dr Murray Wright is a graduate of the University of Sydney Medical Faculty, and has worked in a range of metropolitan, rural and regional centres, as a psychiatrist, in various leadership roles, and since October 2014, as NSW Chief Psychiatrist. His clinical interests include consultation-liaison psychiatry, emergency psychiatry, psychiatric and substance misuse comorbidity, and psychiatric impairment among health professionals and police officers. In addition to his public sector roles, Murray has maintained a private practice since 1990.
Facilitator: Philippa McDonald is a senior reporter at ABC News NSW and currently covering bushfire recovery, as well as the impact of the coronavirus on regional communities. Her career has been built on breaking news and analysis on the biggest stories of our time. She has been at the centre of the media's coverage of Australia's worst bushfires, political upheaval, family violence, the disappearance of MH 370, terrorist attacks, earthquakes, mine disasters and coups. From medical "breakthroughs", to the billing practices of internationally renowned surgeons, to the hunt for a serial killer, to the Royal Commission which revealed how the nation's most trusted institutions failed children.