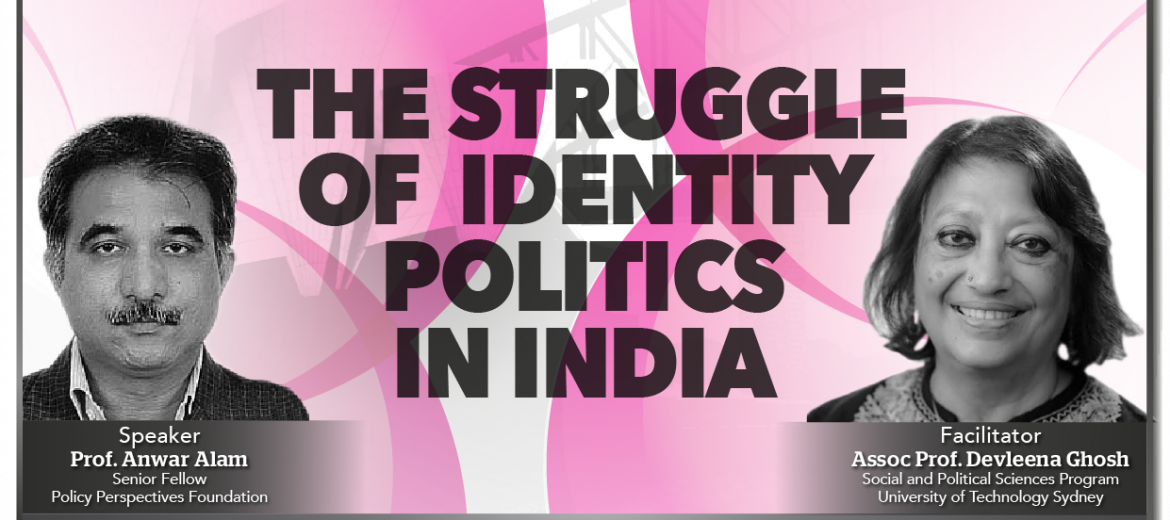 About The Event
The Struggle of Identity Politics in India
India is an important trading partner of Australia, a fellow G20 nation with over 1.25 billion people in a densely populated geography. India's social fault lines are multi-dimensional based on caste, ethnicity, religion, language, community and even gender. Following independence, applying democratic governance was one of the primary goals of its political leadership. Even after 70 years of democracy how does India navigate through the social class structures that separate its citizens and take the whole country forward towards economic prosperity that is based on equality, accessibility and justice for all? How will India deal with the national identity question where everyone could relate to the ethos and feel inclusive of the national story?
About the Speaker:
Professor Anwar Alam is a Senior Fellow with Policy Perspectives Foundation, New Delhi. Earlier, he served as full Professor in the Department of International Relations, Faculty of Economics and Administrative Science, Zirve University, Gaziantep, Turkey; Professor and Director of the Centre for West Asian Studies, Jamia Millia Islamia (JMI); Assistant and Associate Professor at the Centre for West Asian Studies, School of International Studies, Jawaharlal Nehru University (JNU), New Delhi; and Lecturer, Department of Political Science, Aligarh Muslim University, Aligarh. He has been awarded a number of long- and short-term fellowships, including the International Visitor Programme (Islamic) Scholarship, United States (2002); the Indo-French Social Scientist Exchange Programme Fellowship (2003, 2010); the Alexandor Von Humboldt Post Doctoral Fellowship, Germany (2004-2006); and the AVH Renewed Research Stay Fellowship, Germany (June 2016). He was Visiting Professor at Fatih University, Istanbul, Turkey (September 2010–August 2011).
Dr. Alam's recent publications include Muslim Minorities in Europe and India: Politics of Accommodation of Islamic Identities (co-edited, July 2016); Arab Spring: Reflections on Political Changes in the Arab World and its Future (ed. 2014); "Emergence of Muslim Middle Class in Post-Independence India and Its Political Orientations," Journal of Muslim Minority Affairs 35, 1 (2015); "The Roots and Praxis of Fethullah Gulen's Educational Discourse," Hizmet Studies Review 2, 3 (2015); "The Arab Spring: A View From India" in Routledge Handbook of the Arab Spring: Rethinking Democratisation (2014); and "Islam and Violence,"GITAM Journal of Gandhian Studies 3, 1 (2014). His area of research interests includes International Politics, Indian politics, Politics in the Middle East, Political Theory, Religion and Politics, Political Islam, and Muslim Societies.
About the Facilitator:
Devleena Ghosh teaches in the Social Inquiry program in the Faculty of Communication. Her undergraduate courses include ones on Colonialism and on Ideologies. She has supervised a number of PhDs and Doctorates of Creative Arts to completion.
Her research interests lie in the fields of colonial, postcolonial, environmental and global studies, specifically in the Indian Ocean region. Her projects include culture and commerce in the Indian Ocean region, intercolonial networks in the Indian Ocean, gender and citizenship among Muslim women in Sydney, cultural participation and community building in Western Sydney, connections between Indian and Australian women during the Cold War period, contestations around water and coal mining in India and Indian cosmopolitanism and religion.
Devleena has been on numerous advisory panels for the Australian Federal and NSW state governments, dealing specifically on issues relating to the Indian community. She was also a member of the boards of Urban Theatre Project and Powerhouse Youth Theatre.