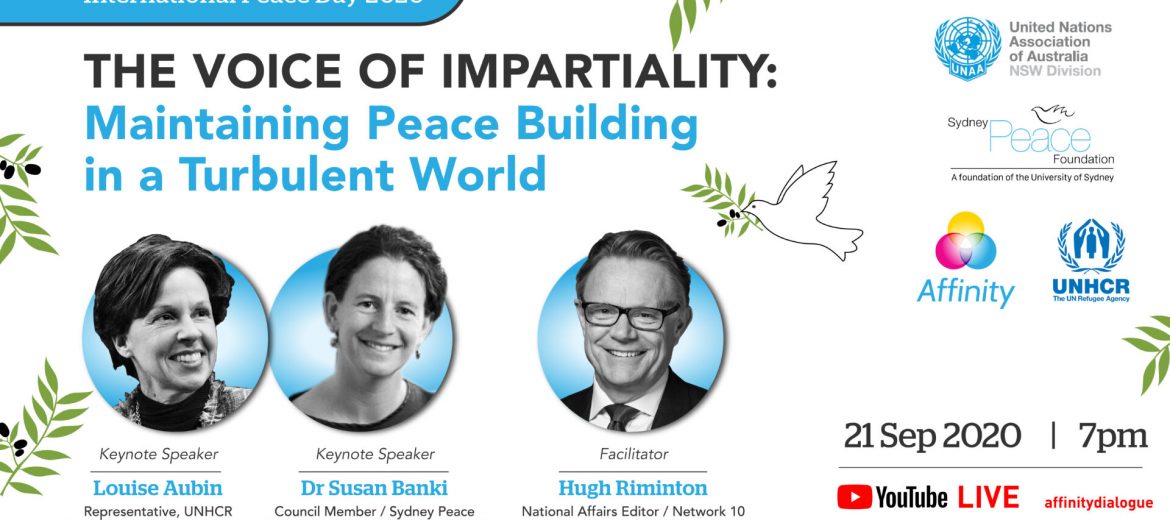 About The Event
Join us for an insightful webinar with Affinity, UNAA NSW, UNHCR & the Sydney Peace Foundation in recognition of International Peace Day.
About this Event
UNHCR Multi-Country Representation Ms Louise Aubin and Council Member of SPF & USYD Senior Lecturer Dr Susan Banki will be in conversation with National Affairs Editor Network TEN Hugh Riminton to discuss 'The Voice of Impartiality: Maintaining Peace in a Turbulent World'.
Please register by clicking here
Watch here : https://youtu.be/pYy8AeczNs4
About this Webinar:
In today's turbulent world, peace operations and peace building provide hope to areas emerging from conflict. One of the principles of UN peace operations is impartiality – a difficult concept to maintain in the volatile and uncertain environment of such situations. Australia has a proud record of involvement in over 60 peace operations since the UN was formed some 75 years ago. On the international day of peace, we consider how can Australia best contribute impartially to peace building operations regionally and globally.
About the Speakers:
Keynote Speaker: Ms. Louise Aubin is the UNHCR Regional Representative to Australia, New Zealand and the Pacific Islands. Since joining UNHCR, she has served in a number of refugee and internal displacement operations including Central African Republic, Rwanda, Guinea, Ethiopia, Kenya, Bangladesh, in addition to legal and advocacy work in Canada and in France. Before coming to Australia, she was Deputy Director in the Division of International Protection at UNHCR's Headquarters in Geneva. Ms Aubin is a Canadian lawyer.
Keynote Speaker: Dr Susan Banki's research interests lie in the political, institutional, and legal contexts that explain the roots of and solutions to international human rights violations. In particular, she is interested in the ways that questions of sovereignty, citizenship/membership and humanitarian principles have shaped our understanding of and reactions to various transnational phenomena, such as the international human rights regime, international migration and the provision of international aid. Susan's focus is in the Asia-Pacific region, where she has conducted extensive field research in Thailand, Nepal, Bangladesh and Japan on refugee/migrant protection, statelessness and border control. She is currently investigating the local, regional and international mechanisms (and the interactions between them) that serve as potential levers for change.
Facilitator: Hugh Riminton is national affairs editor at the TEN Network. In a 40 year career he has been a foreign correspondent and news anchor for the Nine Network and CNN, and a Canberra-based political editor for TEN. He is the recipient of two Walkley Awards and a Logie as well as other Australian and international awards.