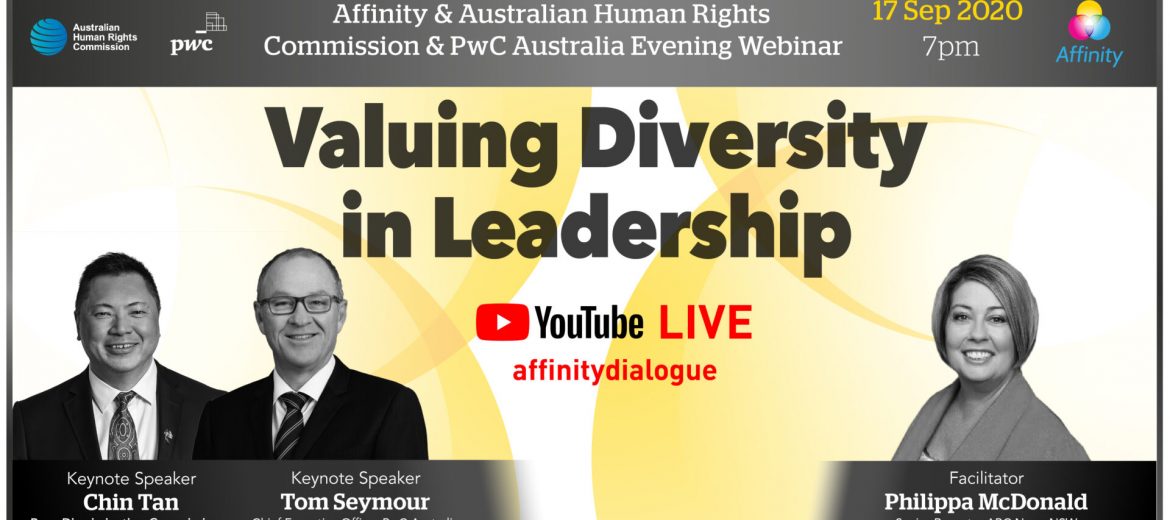 About The Event
Join us for an insightful webinar with Chin Tan, Race Discrimination Commissioner and Tom Seymour, Chief Executive Officer of PwC Australia. This webinar will be facilitated by Philippa McDonald, Senior Reporter ABC News NSW.
Registration Required: Click here to register for this event.
About this webinar:
There is extensive research that shows diversity brings many benefits to an organisation. A diverse workforce increases profitability and creativity, promotes stronger governance and policy development, and produces better solutions to complex problems. Despite this, we're yet to see culturally diverse representation at senior levels, where the significant decisions are made. Chin Tan and Tom Seymour will share their insights on the importance of representation and diverse leadership, and what we can all do to create more inclusive cultures in Australia.
About the speakers:
Keynote Speaker: Chin Tan commenced his term as Race Discrimination Commissioner on October 8, 2018.
Prior to joining the Commission, Chin spent three years as the Director for Multicultural Engagement at the Swinburne University of Technology in Melbourne. Chin's focus at Swinburne University as the head of its cultural diversity strategy was to work collaboratively across the University and the wider community to ensure that Swinburne succeeded as an institution of cultural diversity excellence.
His leadership role resulted in Swinburne on 23 November 2017 being conferred a High Commendation award by the Victorian Government under the Victorian Multicultural Excellence Awards 2017 – Business category. Chin was the Chairperson and Statutory Head of the Victorian Multicultural Commission from 2011 to 2015. The Commission is an independent statutory authority with responsibilities to support and promote the benefits of Victoria's cultural diversity.
Previously, he enjoyed a successful career of more than twenty-four years as a practising lawyer that included partner roles at a number of Melbourne firms.
Chin was the Co-Chair of the Police and Community Multicultural Advisory Committee and served in many other organisations and bodies. This included the Chamber of Commerce, the Australian Football League's Multicultural Focus Group, professional and business associations and Local Council committees. He was until recently a member of La Trobe University's Asia Advisory Board and has had either led or been a member of many other community organisations.
Keynote Speaker: Tom Seymour is the CEO of PwC Australia, and leads a team of more than 700 partners and 8000 staff across PwC's three businesses – Assurance, Financial Advisory and Consulting.
Previously, Tom was Managing Partner of PwC Australia's Financial Advisory business, covering Tax and Legal services, Deals, Infrastructure advisory and Private Clients. He was also the Tax Leader for PwC's Asia Pacific network, and part of the PwC Global Tax and legal leadership team.
Admitted as a partner in 2002, Tom has more than 25 years' experience on taxation matters, particularly in the infrastructure, mining and energy industry sectors. Over his career Tom has led PwC teams advising on some of Australia's largest public and private transactions. He has played a key role in PwC's tax policy agenda, working with both state and federal governments seeking to improve Australia's tax system, and has been a regular contributor to public debates on tax policy and broader economic reform.
Tom is also the Chair of PwC's Elevate Indigenous Reconciliation Action Plan, and a board member of Top Education Limited. He holds a Bachelor of Commerce from Queensland University of Technology, a Bachelor of Laws (Honours) from Bond University and is a Fellow of the Institute of Chartered Accountants in Australia. He lives in Brisbane with his wife and 3 children.
Facilitator: Philippa McDonald is a senior reporter at ABC News NSW and currently covering bushfire recovery, as well as the impact of the coronavirus on regional communities.
Her career has been built on breaking news and analysis on the biggest stories of our time. She has been at the centre of the media's coverage of Australia's worst bushfires, political upheaval, family violence, the disappearance of MH 370, terrorist attacks, earthquakes, mine disasters and coups. From medical "breakthroughs", to the billing practices of internationally renowned surgeons, to the hunt for a serial killer, to the Royal Commission which revealed how the nation's most trusted institutions failed children.