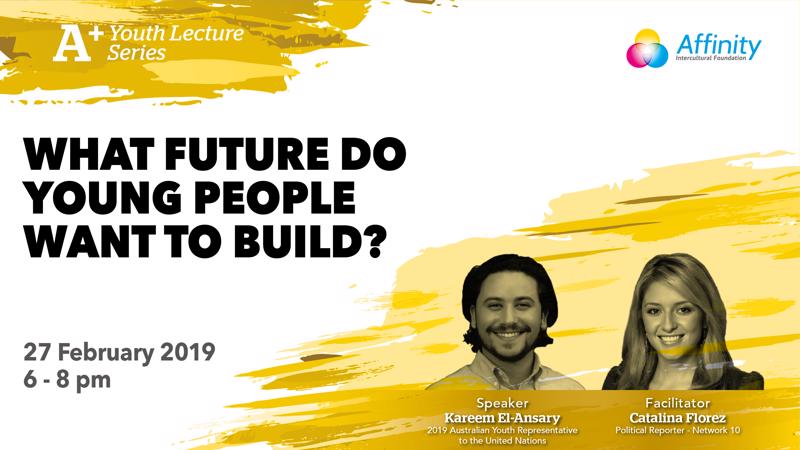 About The Event
About the Speaker:
Kareem El-Ansary | 2019 Australian Youth Representative to the United Nations
Kareem is 23 years old and lives in Melbourne with his family and his Siberian Husky! Kareem has a passion for volunteer work and social impact having worked across the non-profit, development and youth sectors for the past two years.
He has diverse experience working with young people in Australia and abroad and is committed to ensuring they are given opportunities to contribute to important decisions and are treated as valued members of the community.
Kareem holds a Bachelor of Arts (BA) from the University of Melbourne. Following University, Kareem took up a role with the Oaktree Foundation, a leading youth-led aid and development agency where he ran the 'Live Below the Line' campaign, one of Australia's largest digital fundraisers tackling extreme poverty. Following Oaktree, Kareem became CEO of the Asia-Pacific Youth Organisation (APYO); an Australian based NGO working to build platforms across the Asia-Pacific region that build the capacity and influence of young people. In 2018, Kareem was named a 'Global Shaper' by the World Economic Forum and is also one of four young board members of the Youth Affairs Council of Victoria (YACVic); Victoria's peak body and leading policy advocate for young people's issues.
Beyond his professional work, Kareem is an avid traveller, reader, musician and actor having been involved with a number of theatre companies across Melbourne.
About the Facilitator:
Catalina Florez | Political Reporter at Network 10
A broadcast journalist of ten years, Catalina Florez has covered everything from leadership spills and federal elections to bushfires and droughts. After an award-winning period in regional NSW, she moved to Sydney to cover general news but her fascination with politics lured her to Network Ten's Canberra bureau.
Catalina covered the Prime Ministership of Tony Abbott before a leadership spill installed Malcolm Turnbull and travelled with and reported on both campaigns during the 2016 election. Catalina now heads the political bureau at NSW Parliament House where she's already covered the leadership of two Premiers.
During her career, not only has she reported on major political events but also broken stories about children in detention and the mistreatment of prisoners in the justice system. Colombian born and fluent in Spanish, Catalina has a passion for storytelling.