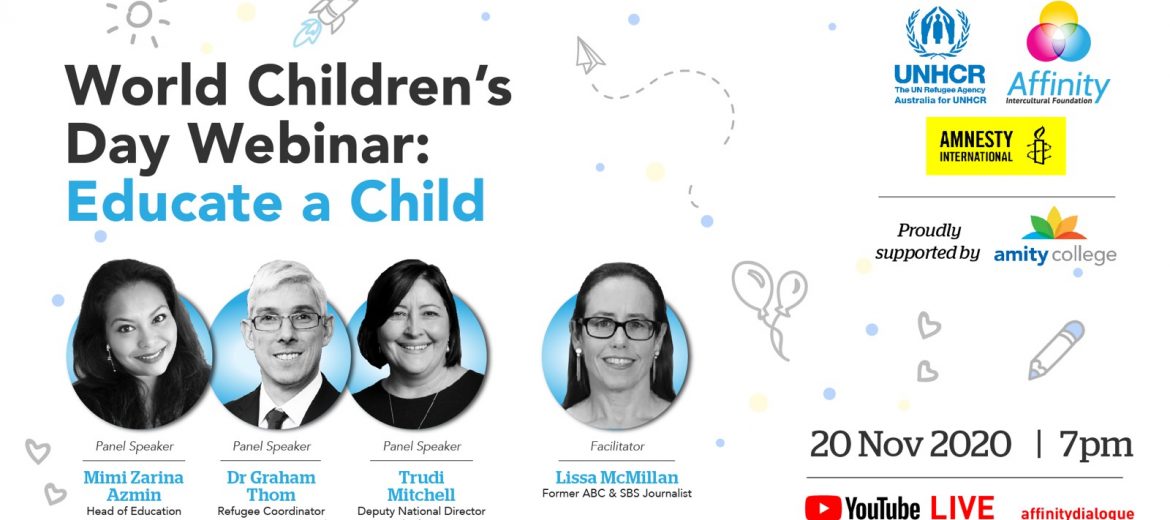 About The Event
Australia for UNHCR and Amnesty International is joining Affinity for World Children's Day to share how we support refugee children – who make up more than half of the world's 79.5 million refugee population. UNHCR, the UN Refugee Agency, provides life-saving support for refugee children, including unaccompanied children separated from their families, as well as delivering education opportunities and quality teaching and learning. The objective is that children have access to school programs in the first three months of displacement – forming foundations for young refugees to thrive now and into the future.
This webinar will go LIVE on 20 November 7pm on Affinity's YouTube channel. Please click on the link: https://youtu.be/C3PdJZg9HJM
If a technological issue is experienced and the link becomes unavailable, please head to Affinity's YouTube page and wait for a new LIVE video stream to appear. https://www.youtube.com/user/AffinityDialogue/videos
Key Speakers:
Panel Speaker: Ms Trudi Mitchell
Trudi Mitchell is the Deputy National Director of Australia for UNHCR and a passionate advocate for refugees, with a deep understanding of issues affecting displaced people and children.
She has met with children and families forced to flee violent gangs operating in the north of Central America, and has seen firsthand how UNHCR programs kept children safe from violence and exploitation, and assisted families to apply for asylum and find work. Trudi has travelled to Uganda's Nakivale and Kyaka II refugee settlements where she met young refugees from Burundi, DRC and Rwanda to inform plans for a new vocational training centre in Kyaka II funded by Australia for UNHCR.
This event is proudly supported by Amity College.
Panel Speaker: Ms Mimi Zarina Azmin
Mimi Zarina Azmin joined UNHCR in 2008 after more than 11 years in the private sector. Appointed as UNHCR Malaysia's Head of Education in 2016, she leads a team that focuses on advocacy, coordination, provision of support and targeted actions aimed at enabling access to education for refugee children and youth in Malaysia, from early childhood to tertiary education.
With the support of the Education Above All Foundation (EAA), founded by Her Highness Sheikha Moza bint Nasser of Qatar, and its Educate A Child project (EAC) since 2012, UNHCR Malaysia works with more than 30 partners and the refugee community themselves in enabling access to education to some 14,000 refugee children and youth.
Panel Speaker: Dr Graham Thom
Dr Graham Thom has been Amnesty International Australia's Refugee Coordinator since 2000, working on behalf of individual asylum seekers as well as on broader human rights issues relating to refugees. Dr Thom has also been a Board member of the NSW Asylum Seeker Centre for the last 10 years.
Dr Thom has worked with urban refugees and visited refugee camps and detention centres in India, Thailand, Indonesia, Sri Lanka, Bangladesh, Malaysia, Syria, Iraq, Jordan, Kenya, the Netherlands, PNG, Nauru and Australia.
Dr Thom publishes and lectures on domestic and international refugee issues and has represented Amnesty International at UNHCR's Annual NGO Consultations and the Annual Tripartite Consultations on Resettlement in Geneva, for the past thirteen years. He completed his doctoral thesis on post-war migration at the University of Sydney in 2000.
Facilitator: Ms Lissa McMillan
Lissa has 30 years' experience in the media, having worked in commercial radio, newspapers, the ABC and SBS. She was a Senior Executive since 1987, managing radio newsrooms and ABC NewsRadio in Canberra, Melbourne and Sydney. She worked as Radio Editor for SBS Radio, and Planning Editor for SBS TV, Radio and Online. She retired in 2015 to concentrate on windsurfing, sailing and learning languages.