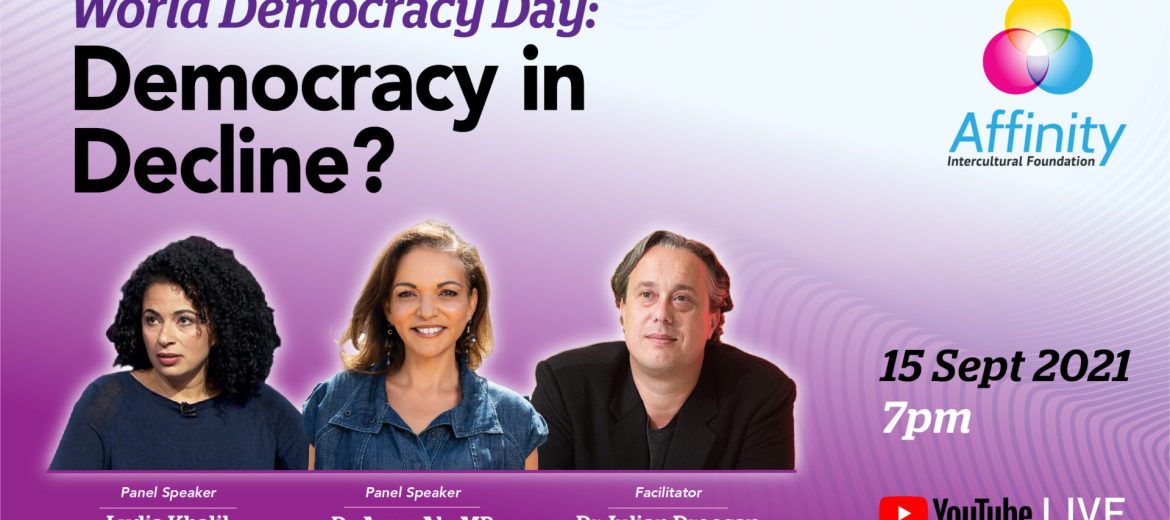 About The Event
Event description
ABOUT THE EVENT:
Today, many liberal democracies appear divided and consumed by internal and external challenges. The covid-19 pandemic has put unprecedented pressure on democracies, in particular the balancing of freedom and security for their citizens. At the same time, anti-democratic authoritarian powers are advancing their interests around the world. Countries that were once on track to being strong democracies are backsliding. In this webinar, our distinguished speakers will discuss whether democracy is in decline or not? What are the challenges for Australia, and what can we do to ensure our democracy remains healthy?
Make sure to register at: https://events.humanitix.com/world-democracy-day-democracy-in-decline
ABOUT THE SPEAKERS:

Dr Anne Aly is a Member for Cowan, and previously was a Professor at Edith Cowan University.
Anne is an internationally renowned expert in counter-terrorism and counter-radicalisation, she has published over 100 articles and books on topics related to terrorism and international security. Anne is committed to working with all levels of government to make our families and communities safe.
Anne was the only Australian to be invited to President Obama's White House conference on violent extremism in 2015. She has worked with the United Nations on developing programs and policies on national security and counter-terrorism. She is the recipient of numerous awards for her work and in 2016 she was awarded the Australian security medal.
Lydia Khalil is a Research Fellow in the West Asia Program at the Lowy Institute and manages the Lowy Institute's core partnership with the Global Network on Extremism & Technology.
She has a broad range of policy, academic and private sector experience, and has spent her career focusing on the intersection between governance, technology and security — understanding the rationales behind terrorism and counterinsurgency, how to create governance systems that lead to functioning societies, effective policing strategies or the security and policy effects of new technology. She is also currently a director of Arcana Partners, a strategic consultancy firm, a research associate at Deakin University's Alfred Deakin Institute and a fellow with the Centre for Resilient & Inclusive Societies.
Dr Julian Droogan is a Senior Lecturer at the Department of Security Studies and Criminology, Macquarie University where he is the Editor-in-Chief of the International Journal of Policing, Intelligence and Counter-Terrorism (Routledge).
Julian's academic background encompasses the anthropology and history of religions. His research interests include countering violent extremism, religious radicalisation, extremist narratives, and the history of terrorism and political violence.
Julian leads a number of funded research projects including the evaluation of countering violent extremism (CVE) programs in Australia, an ongoing partnership with the New South Wales (NSW) government looking at ways to install and evaluate counter-terrorism and social resilience projects in NSW communities, and an Australian Research Council (ARC) Discovery grant project examining the relationship between online extremist materials and real-world violent extremist action. He serves on the NSW Premier's Countering Violent Extremism Advisory Board.