"Change will come when we start believing the stories when they're told": Sara Mansour on how social media is helping survivors of sexual harassment
September 28, 2018
2022-05-16 6:18
"Change will come when we start believing the stories when they're told": Sara Mansour on how social media is helping survivors of sexual harassment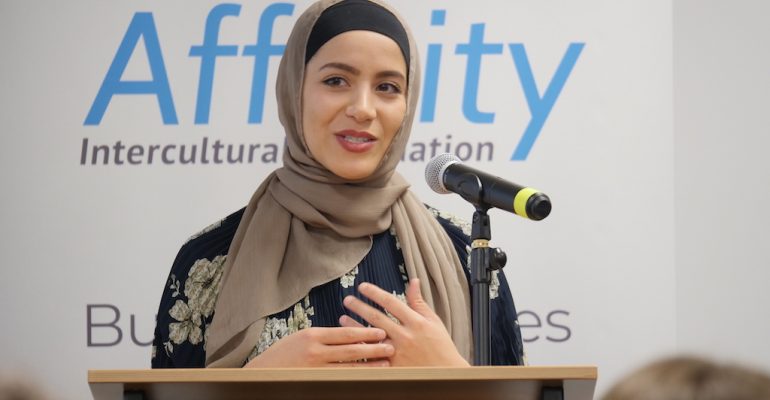 "Change will come when we start believing the stories when they're told": Sara Mansour on how social media is helping survivors of sexual harassment
On Wednesday, 5 September, a full house turned out to attend Affinity Intercultural Foundation's A+ Youth Lecture with Sara Mansour, lawyer and co-founder of Bankstown Poetry Slam.

In a talk titled, ''Hashtags Sparking Revolutions: How Social Media is Helping Take a Stand Against Sexual Harassment', Sara discussed how social media and the #MeToo movement is helping survivors of sexual abuse speak out about their experiences.

Sara shared statistics to show that sexual harassment in the workplace is an epidemic, not just a problem.

"One in 10 working women have experienced sexual harassment in the workplace, and women are more likely than men to suffer from post-traumatic stress disorder as a result of experiencing sexual harassment in the workplace." she said.

"Of women, those from culturally diverse backgrounds as well as those living with a disability are twice as likely as Anglo women to experience it. It is commonplace and a difficult part of the working environment that women are forced to navigate." she said.

Although it is major public health issue that must be addressed, there is a common reasons why many survivors are reluctant to speak out.

"We live in a world where the cost of speaking up may be outweighed by any compensation that may be payable to survivors." she said.

"We must work together to create an environment where speaking up is not risky as it is brave, when calling out someone in power is applauded rather than questioned."

The #MeToo movement has paved the way for organisations like Now Australia to be established, creating an environment where survivors of sexual harassment are more empowered to speak out, rise up against their abusers and reclaim their voices and their stories.

The breadth and volumes of the stories shared have created another community – an online community that has been aided by social media, resulting in a positive cultural shift.

Before concluding her talk with a stirring spoken word poetry performance, Sara ended with an optimistic outlook about the potential for change.

"Real societal and cultural change will happen when we empower survivors to reclaim the word 'victim', to seek retribution against their abusers without fear that their voices will be drowned out.

"Change will come when we start believing the stories when they're told." she said.