"Our game is something more than sport – it builds leadership and strong bonds across a multiplicity of cultural backgrounds": Sam Graham CEO of AFL NSW/ACT CEO
October 25, 2018
2022-05-16 6:00
"Our game is something more than sport – it builds leadership and strong bonds across a multiplicity of cultural backgrounds": Sam Graham CEO of AFL NSW/ACT CEO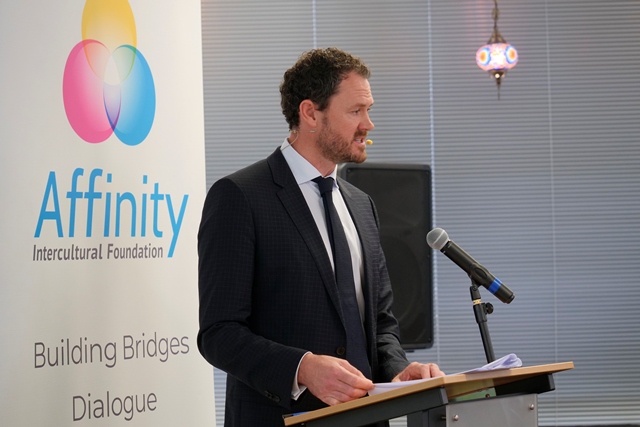 "Our game is something more than sport – it builds leadership and strong bonds across a multiplicity of cultural backgrounds": Sam Graham CEO of AFL NSW/ACT CEO
On Monday, 22 October, Affinity Intercultural Foundation hosted a special lecture with the CEO of AFL NSW/ACT, Sam Graham, who discussed the important role AFL plays in creating a sense of belonging and community in Australia – one of the most multicultural, multi-faith countries in the world.
In a conversation Facilitated by former ABC Radio Presenter John Cleary, Graham addressed 'fear of the other' and 'fear of the outside' as being threats to connection, belonging and community, and how AFL can be the means to overcome this threat.
"Our job at AFL NSW/ACT is to grow and progress the game by not only increasing participation but also embedding the game into communities and showing that this game is for everyone regardless of race, gender, sexuality or religion," he says.
"Our game is something more than sport – it is something that builds leadership and strong bonds across a multiplicity of cultural backgrounds."
Graham highlighted how the expansion of ALF in recent years, particularly the inception of the Greater Western Sydney Giants Football Club has built a strong relationship with community leaders and important stakeholders in multicultural communities.
He said, "The club realised that to connect with their neighbouring communities they needed to listen to them beyond football and they have certainly done this. The last 5 years the Giants have held an annual Iftar dinner and I'm frequently told that it is one of the greatest Iftar dinners that you could ever attend."
The CEO went on to commemorate the involvement of Aboriginal and Torres Strait Islander people throughout the life of ALF, from the foundations of the game over 150 years ago to their continued representation at the elite level today.
He honoured the special efforts of football clubs to run indigenous rounds of AFL, such as the Sir Doug Nicholls Indigenous Round, for acting as a reminder that Aboriginal and Torres Strait Islander people have helped shape football into what it is today.
Graham believes with this much-loved sport, which has received great support from the NSW government and Multicultural Minister of NSW, the possibilities for positive change are endless.